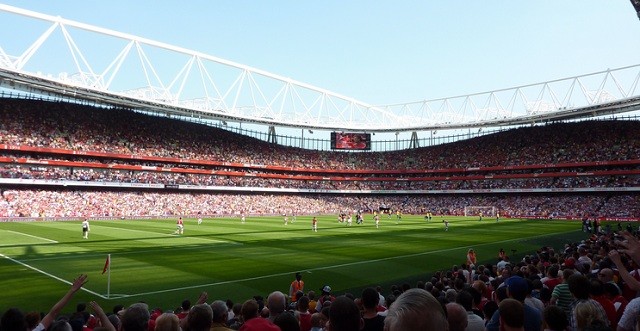 Arsenal and Monaco face off at the Emirates Wednesday, in their 1st Leg of the Round of 16 in the Champions League.
While Arsenal are certainly considered the favorites, Monaco can back a punch as well and have been on better form of late, slowly climbing back into the top four in Ligue 1.
The clubs have a history, although it's not a competitive history but rather a personnel history. Arsene Wenger managed Monaco in the late 80's and early 90's bringing them back to prominence in France and Europe. He won Ligue 1 with Monaco and was runners up numerous other times in the league, in domestic cups and in Europe.
Whilst this is a nice story to the build up to the match, it won't affect the game itself. Arsenal faces a difficult task, but a task that they should be up to.
Monaco has had a staunch defense in the Champions League, hardly conceding in the group stages. They also boast speedy wingers who will look to expose Arsenal's fullbacks who like to venture forward, something that was a weakness of theirs early in the season.
On the other hand Arsenal boast a wealth of attacking options and overall depth in their squad. They could rotate a few players and field a very strong side that Monaco would be hard pressed to match.
Wenger can afford to not rotate his squad too much from the weekend though, since they had 3 days rest, and won't play again until Sunday, giving them another 3 days rest.
This should be an interesting match up.
Here is Arsenal's probable lineup:
Goalkeeper – Szczesny
In the past Wenger has rotated his goalies in the Premier Leauge and Champions Leauge. He did this with Jens Lehmann and Manuel Almunia most recently.
Since being dropped Wojciech Szczesny has only featured in the FA Cup. Its possible Wenger uses him as his Champions League goalkeeper as well.
Right Back – Bellerin
Hector Bellerin missed out against Crystal Palace over the weekend due to a small ankle injury but he was close to being in the match.
It's reasonable to believe that he will be healthy and available for this match, and in that case Wenger would opt to choose the Spaniard over Calum Chambers who lacks the pace and seems uncomfortable in the right back position.
Center Back – Mertesacker & Koscielny
No one is pushing them for their places currently. There isn't much need to rotate yet either. It's likely we will se Gabriel make his full Premier League Debut next week Wednesday, allowing one of these two to rest.
Left Back – Gibbs
Nacho Monreal had a rough outing over the weekend, and consistently had trouble dealing with the pace of Wilfred Zaha. Kieran Gibbs on the other hand has the necessary pace and has performed well all season. Although Monreal has been in favor recently, Gibbs may be called upon to deal with Monaco's pacey wingers.
Defensive Mid – Coquelin
With Mathieu Flamini out hurt, there isn't much competition to take over from Francis Coquelin. It's unlikely that Flamini would have started if healthy anyways.
Central Mid – Cazorla
Again showed he is a capable central midfield by exhibiting his attacking ability and his defensive abilities. Santi Cazorla and Mesut Özil have combined well while playing in the middle together.
Attacking Mid – Özil
The injury break has done Özil some good as it allowed him to buff up noticeably. He seems much better adapted to the pace and physicality of the English game and his performances have been the best we have seen of him in an Arsenal shirt.
Wide Right – Walcott
The consensus is that Theo Walcott will be used in home games and Danny Welbeck in away games due to the differing defensive abilities and willingness to commit from each player.
Walcott can afford to play more like a striker, which suits him best, at home because teams don't look to press Arsenal high up the pitch at the Emirates.
Where as away, teams press high and at a fast tempo, which suits Welbeck more who is a better technical dribbler and defender.
Wide Left – Alexis
So much is expected of Alexis Sanchez, that a five game goal drought has become a worry to some.
It can't be expected that he play the way he did earlier in the season, for an entire season. That wouldn't be good for Arsenal because during that time it seemed like he was the only player scoring. Now the goals are coming from multiple players while Alexis is still getting his chances and is creating for others.
Striker – Giroud
He has been praised for his goal scoring form of late and rightly so as it is one of his most prolific periods as an Arsenal striker. However for what he is showing in front of goal, his overall game has been lacking. His passing has been poor, as has his hold up play, which is normally his strength.
Hopefully his goal scoring form keeps up because Arsenal can't afford to have his game suffer a dip in that area.
(4-5-1)
Via – Lineup Builder