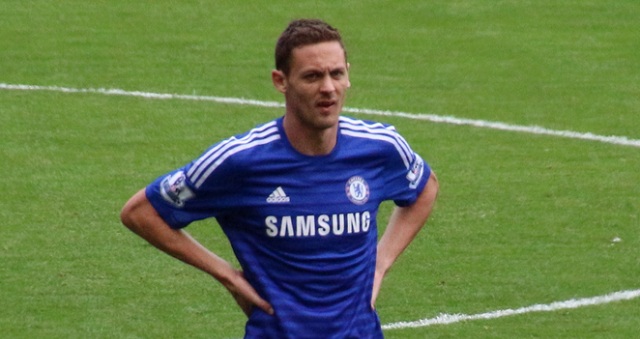 Jose Mourinho did his best to not incriminate himself in the eyes of the FA during Saturday's post match interview. Rather than speaking about a 'campaign' against Chelsea or directly criticizing referee Martin Atkinson, the Chelsea manager asked us to evaluate four moments from the match against Burnley.
"There are four moments of the game where you can write the story," Mourinho said referring to his notepad. "Minutes 30, 33, 43 and 69. Don't ask me more questions. I can't go through the incidents. I am punished when I refer to them."
In minute 33 and 43 Chelsea had clear penalty claims denied. First, the outstretched arm of Michael Kightly blocked an Ivanovic shot on route to goal. Ivanovic appeals and Atkinson, dismisses the Chelsea complaints. Second, Diego Costa cut inside of defender Jason Shackell who then pushed Costa to the ground. Again, Atkinson refrains from pointing to the spot.
"Jason Shackell loses the ball and tries to make up for his error, but he catches Diego Costa and shoves him," states BBC pundit Alan Shearer. "He gets his legs caught up with Costa's. You can tell by Costa's reaction, by the way he slams the turf with his fists, what he thinks about it. It should be a penalty."
The moment in the second half was the turning point in the match. Matic was sent off for running at and shoving Ashley Barnes in the chest after a malicious, studs out tackle on the leg of Matic. The Burnley player was not awarded a card. Mourinho alleged that had Barnes been carded in the 30th minute for a knee in the back of Ivanovic the incident in the 69th minute would have never occurred.
In an interview, which the manager requested himself, with Sky Sports on Sunday Mourinho opened up about the challenge on Matic:
"This could be end of career. Because I can't find another adjective stronger, I just say this is end of career. Matic is a lucky guy.
"I can't find the word to describe what that player did. I can clearly understand that football is about emotions and sometimes you lose emotions. Clearly Matic had a reason to lose his emotions. What could be the consequence of his push for the other player? Nothing. The consequence for Matic could be end of career."
Mourinho, who is at times quick to criticize referees, is justified by replay on this occasion. Even without the benefit of replay it seems as though Atkinson was incompetent on all four occasions. Matic was justifiably sent off, but how Barnes has not received a red let alone any card for his vile challenge is incomprehensible.
Atkinson was in clear view of the potential leg breaker and did not even blow his whistle for a foul. Play was only stopped once Matic reacted. Either Atkinson missed the tackle from five yards away or he saw it and deemed it fair. Regardless, his decision was wrong and turned the match and perhaps even the title race.
Costa recently received a retrospective three-match ban for violent conduct after a stamp on Emre Can went unseen by the officials in a Capital One Cup match. There is no question the FA will look at the incident, however this will not help Chelsea one bit. Matic will still be suspended for the Capital One Cup final and two Premier League matches.
Mourinho's Sunday interview with Sky was unprecedented but his frustration over the incident is well founded. Smartly, he made sure not to call in to question the integrity of Atkinson and is likely to escape a fine. Whether or not Atkinson will be punished for his errors is unknown at this time.
It is difficult to explain how Atkinson deemed all four moments acceptable. Perhaps he was tired after his midweek work in the Champions League. Mental fatigue is a problem, though still inexcusable after so many wrong decisions. There is also the possibility that referees are shying away from sending players off and awarding penalties in fear of wrongly affecting the outcome. However, in not making those decisions they are equally affecting matches.
These were crucial mistakes but Atkinson is not the only referee guilty of influencing matches. The ineptitude of referee's has been under increasing scrutiny for the last few seasons. In that time goal line technology has been added to aid the officials. However, video replay of every major incident would be impractical. This could drastically slow games down but also lead to every single incident no matter how small to be called into question.
With the speed of the game faster than it has ever been it is obvious that officials need help. One idea is to add an extra official. In the World Cup for instance officials were added along the end lines. Extra eyes could lead to fewer mistakes. Another idea is added rest for officials who worked in midweek. There is a rotation of officials each weekend and that rotation could potentially be changed to allow certain referees the weekend off after European matches.
There are also those who argue that human error is inevitable and it will even out throughout the course of a season. However, with more money from television deals and sponsorships the difference in a couple of places may wrongfully deprive a team of millions of dollars. The referees are under a microscope each week and in this every changing game it is time the referees are given some help.