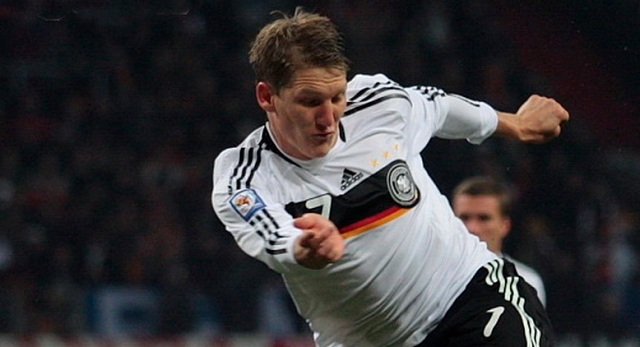 According to FIFA Agent François Gallardo, Bastian Schweinsteiger has offered himself to both Real Madrid and FC Barcelona. The World Cup winner has a contract with FC Bayern Munich until 2016 and would be open to a move out of his lifelong club.
Bastian will be 31 years old in August and his constant injury problems are major turnoffs for big clubs like Madrid and Barça. Nevertheless, his experience, engine mentality and style of play would fit in well in both clubs.
His declining relevance in Pep Guardiola's squad makes his desire to look for other teams an understandable one. He would be a great addition to any team, yet only powerful clubs could afford his salary.
The German should think hard about his future, as many things will affect his likelihood to find an important role in potential clubs. Real Madrid have a young and talented midfield, making his signing completely unnecessary. However, the club's appreciation for great new additions would slightly open the possibility.
El jugador que se ha ofrecido a Madrid y Barça es… SCHWEINSTEIGER. Y si no desmiéntemelo #ElChiringuitoDeNeox pic.twitter.com/jgbrpCAORn

— François Gallardo (@TopFGallardo) February 20, 2015
On the other hand, Barcelona are still forbidden from buying new players until 2016. Unless the ban is lifted, this wouldn't be the right club to persuade into starting a deal with the Bundesliga champions.
What's clear is that this situation probably won't come to a resolution until the end of this summer. He won't be lacking proposals, yet it's up to him to decide whether the projects offered to him are worth his time.
https://www.youtube.com/watch?v=ainPplNzkx8