Chelsea defeated Burnley quite comfortably on the first day of the season ending the weekend atop the Premier League. Since that victory Chelsea have been league leaders on all but one occasion, when Tottenham had a better goal difference after week two. On New Year's Day, Chelsea were level on points and goal difference with Manchester City, but have since created a seven point gap. Burnley, on the other hand sit just four points off the bottom in nineteenth place.
Given Chelsea's home form and the thirty-eight point gap between the two clubs it would be easy to suggest The Blues are in for nothing less than a comfortable victory. However, their poor performance in the second half of Tuesday night's Champions League match against Paris St-Germain provided Jose Mourinho with a number of concerns heading into the weekend. At the forefront of those concerns is fitness and fatigue.
Mourinho revealed post-match that five players who took part on Tuesday were unable to train in the days preceeding.
"Since the Everton game, [Eden] Hazard, Willian, Oscar, [Cesc] Fàbregas and Ivanovic didn't train," Mourinho stated. "They did some individual training to try and keep running and moving but they didn't play a full part in training."
Fabregas who had been battling a muscle injury in previous weeks was reportedly ill over the weekend, while the other four players were carrying some sort of knock. Hazard is understandably not at one hundred percent given that he is the most fouled player in the Premier League and Champions League this season. The Belgian was fouled a game high nine times on Tuesday. Hazard has also featured in more matches than any other Chelsea player this season. However his impressive form has made it difficult for Mourinho to rest him.
Mourinho is known for sticking with a core group of players and this season has been no different. In the league he his preferred ten outfield players have started nineteen times or more, while the eleventh most used player has started a mere six games. Chelsea have been lucky thus far having suffered only minor injuries to key players, though some are now questioning whether or not the lack of rest is negatively impacting the team's performances.
Players in the Premier League do not benefit from a January break that is a staple in many other leagues (e.g. Bundesliga). During the holiday season English clubs played four matches in ten. January provides little respite as League Cup matches are added to the fold. With the amount of games Chelsea have played and the lack of rotation implemented by Mourinho, it is no wonder that players are unable to train.
A home fixture against Burnley is a great opportunity for Mourinho to rest some players, while integrating recently injured players back into the squad. However, too many changes can be disastrous (see the FA Cup loss to third division side Bradford).
Goalkeeper
Thibault Courtois was spectacular in midweek, making a number of crucial saves against the likes of Edinson Cavani and Zlatan Ibrahimovic.
Without his heroics Chelsea may well be eliminated from the tie. Mourinho went with the Belgian despite an impressive clean sheet from Petr Cech against Everton, indicating that Courtois remains top choice.
Defense
Gary Cahill has struggled in recent months and was fault for the goal conceded in Paris. Cahill was a little too eager to meet a cross at the near post and was out of position as the ball sailed over him onto the head of Cavani who was left free six yards from goal. There is no question that Cahill is a capable defender, and he has proven such during his time at Chelsea, but he seems to be lacking in confidence more than anything.
The size of Cavani and Ibrahimovic troubled John Terry and Cesar Azpilicueta. The undersized Azpilicueta was out matched in the air all night, causing Terry to remain deep on the cross that led to the goal. On the ground there is arguably not a better defender that Azpilicueta. Furthermore, his combination play with Hazard down the left side has helped solidify his spot in the back four.
Mourinho may turn to Kurt Zouma to yet again to replace Cahill come Saturday. The 20-year-old has impressed against City and Liverpool in recent weeks and brings pace to the back four. His strength, alongside the seemingly indestructible Ivanovic provides Chelsea with a robustness that opposing forwards find difficult to break through.
Midfield
The emergence of Ramires as a fit and viable option in the center of midfield has led to some slight tactical adjustments in recent weeks. Alongside Matic, the Brazilian adds defensive quality that Fabregas lacks. This has led to Chelsea playing a more conservative style and has slowed down play out of the back, a tactic which has worked against top opposition.
With Fabregas in the deep lying role, Chelsea are able to counter more quickly and generate fluid offensive movements from further in the midfield. This occasionally leaves them exposed and puts the brunt of the defensive work on Matic in the midfield. At home against Burnley though you would expect Mourinho to set up in this way.
Ramires can either go to the bench or out of the right, where he has played in the past. This would allow Mourinho to rest either Hazard or Willian before the Capital One Cup next weekend. January signing, Juan Cuadrado is also an option on either wing.
Striker
Diego Costa returned from three-match suspension against PSG, though he hardly got a touch on the ball. Burnley provides the perfect opportunity for him to ease back into the squad. Costa scored on opening day against Burnley and has since bagged sixteen.
Expect a couple of changes on Saturday, though Mourinho will be wary of what happened last time he rested a handful of key players.
 (4-5-1)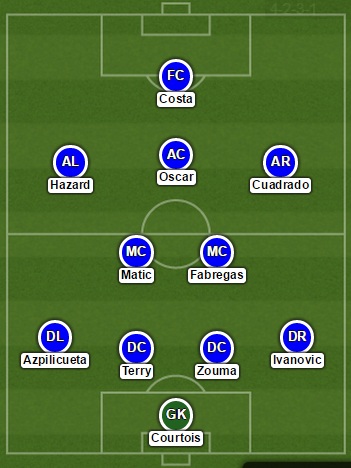 Via – Lineup Builder