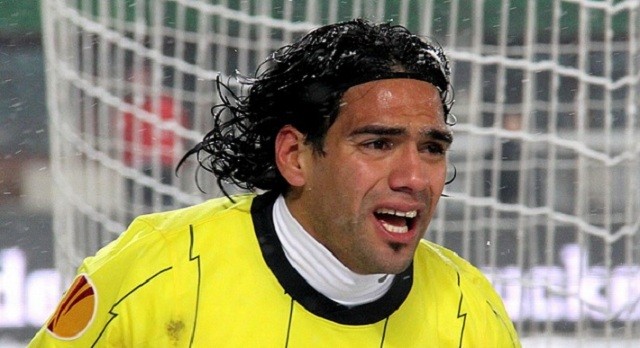 "I'm convinced 'Falcao' is Spanish for black hole".
The above statement was the Facebook status I posted midway through Manchester United's uninspiring FA Cup performance against Preston North End on Monday, and I'm sure it sums up a lot of people's sentiments towards the Colombian's atrocious play this past month.
Falcao arrived at Old Trafford in a shock £6 million loan on Deadline Day with a pricey £43.5 million option to make the move permanent after one year.
In my mind, that deal still represents great business for the club and should be considered a masterstroke for Ed Woodward, the often under-fire executive vice-chairman who is still growing into his role as United's transfer czar.
Falcao to United seemed like a win-win scenario for everybody: Woodward looked like a genius, Falcao got to play for a world-class club with a packed house, Jorge Mendes (Falcao's agent) got to cash in on his asset for the 2nd time in as many years, and Van Gaal was handed another shiny new toy to compliment his embarrassment of riches up front.
Unfortunately, the Falcao experiment is coming to an agonizing and painful conclusion for all parties involved as Falcao's performance on Monday was a testament to his struggles since joining the Red Devils.
"Another night of nothing from Falcao," BBC commentator Martin Keown noted as the striker was yanked in the 60th minute with United facing a 1-0 deficit.
It was another lifeless display from United's attack (an all-too-common theme under the Van Gaal regime), and Falcao was the most ineffectual component. HIs movement was languid and failed to cause any real threat to Preston North End's back line, he failed to hold up the ball and was dispossessed far too easily, and his poor anticipation caused several scoring opportunities to go begging. He was the worst player on the pitch by a fair distance.
Falcao's numbers have been equally as bleak this year; 4 goals in 19 games from a striker isn't good enough (even if he has also added 4 assists).
Contrary to my initial statement, I actually like Falcao. Up until the middle of January, I didn't have a bad thing to say about him.
He isn't adverse to rolling up his sleeves and getting his hands dirty, he really seems to enjoy pulling on the shirt, and his humbleness and gratefulness towards the supporters is a real breath of fresh air in modern football. The Colombian hasn't exactly lit the world on fire at United, but he has contributed some great moments since joining the club such as his winner against Everton and his point-saving header versus Aston Villa.
Part of me still clings to hope that El Tigre will rediscover his form and come roaring back, but the realist in me doesn't see it happening before the end of his tenure with United.
Will the real Falcao please stand up?
There's no doubting that Falcao was a world-class striker prior to his move to Manchester. This was a player who, up until a couple of seasons ago, was arguably one of the top 3 players in La Liga alongside Messi and Ronaldo. Just look at the dearth of quality goals this man has scored throughout his career – screamers from distance, flying headers, acrobatic scissor kicks, etc.
However, it's no secret that the Colombian superstar has had his fair share of serious injuries in his career. He sustained serious damage to his right knee ligaments that halted his progress with River Plate in late 2005 and 2006.
His injury record was clean up until November of 2013 when he was afflicted with a thigh injury. Less than two months later, it was reported than he damaged his ACL in that same leg.
Since recovering from injury and moving to United, Falcao hasn't resembled the same player. He lacks the explosion and quickness that made him such a force to be reckoned with, his predatory instincts seem to be dulled from his lack of playing time in the past year, and his touch has disintegrated at an alarming rate (although there might be hope in this facet as Wayne Rooney's touch has experienced quite the renaissance in recent times).
The Mirror's Nooruddean Choudry offers an intriguing theory about how Van Gaal's philosophy directly conflicts with the way Falcao plays football, but even if that is the case (it's probably a factor given Van Gaal's philosophy seems to defy many of the practices ingrained at United), it can't account for the Colombian's disappointing play.
Falcao's biggest issue right now (apart from his lack of confidence) is that he can't hold onto the ball. According to Squawka, Falcao hasn't produced a positive possession score in a match since late December.
While Falcao's first touch may play a part in this, I also believe that Falcao is complicating things by trying to do too much with the ball after receiving a pass.
Next time you're watching Falcao, notice how he tends to take 3,4, or 5 touches in situations where he should be taking 1 or 2. By taking those extra touches, Falcao allows defenders more time to close him down and make a tackle.
Perhaps the unnecessary touches are a product of the lack of service he has received from United's perpetually out-of-sync midfielder, but his inability to keep possession has quickly turned him into the team's weak link.
What's next for El Tigre?
There is only one cure for Falcao's maladies: more playing time. Van Gaal remarked earlier in the season that Falcao lacked the fitness to complete even 20 minutes. That may no longer be the case necessarily, but Falcao still lacks match sharpness and, as Kevin Davies pointed out after Monday's match, probably needs a cuddle.
On Falcao's recent form in addition to the clamor for Rooney to return to forward, you'd have to guess that Van Gaal can't afford to give it to him in the thick of the Champions League qualification race.
Falcao and Jorge Mendes may not like it, but Falcao might be best served by returning to Monaco and playing in that depressing, half-empty stadium that he so loathes. Returning to match sharpness and rediscovering any semblance of his former goalscoring exploits will make him a valuable commodity for the big boys come January or the following summer.
Yes, he is 29, but even with his blighted injury record, I don't see any reason why he couldn't be serviceable to a big club for at least 4 more years.
I still believe that El Tigre is still fully capable of returning to prominence, but I just don't see it happening for him in a Manchester United jersey.
https://www.youtube.com/watch?v=xCmk96_Pfpg