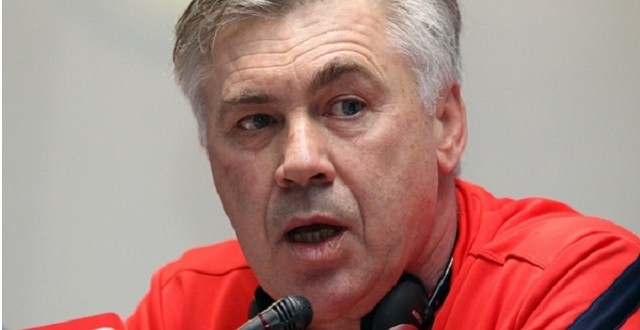 Almost a full year since Real Madrid visited the Veltins-Arena, things have drastically changed for both teams. Los Blancos are immersed in a crisis of injuries and bad football. On the other hand, Schalke are 4th in the Bundesliga, but they are slowly falling behind, meaning they could lose their qualification spot to the Champions League. What's clear is that we shouldn't expect last year's 1-6 to happen again.
Preferred Formation: 4-3-3
Carlo Ancelotti isn't known for being a revolutionary manager. As such, he won't be forgetting the system that brought him so much success, or at least the illusion of it. The 4-3-3 wasn't decisive in the Champions League or the Copa del Rey finals. However, that's what he knows best, and he will continue with it no matter what. Schalke are less intimidating and intense than other rivals, so it should be enough.
GK: Iker Casillas
He heard the disapproval of a part of the Bernabéu last weekend. His mistake at the Vicente Calderón and his subsequent words to the press have upset many fans. Nevertheless, all signs point to the captain starting the match.
RB: Dani Carvajal
Since Arbeloa played versus Deportivo, it's very possible that Carvajal will take over now. He needs to be very helpful in attack, without making his wing an expressway for the rivals.
CB: Raphaël Varane
He hasn't taken advantage of Pepe and Ramos' absences. His performances in big matches have been quite average. With the Portuguese now recovered, he also needs to outperform Nacho if he wants to keep playing.
CB: Nacho Fernández
Pepe is back, still if Ancelotti plays him right away, his risk of getting injured again is high. The Italian isn't the smartest fellow when resting top players, yet it seems he will play it safe this time.
LB: Marcelo
Coentrão's still missing and Nacho is needed in the center. Much like Carvajal, he will have to maintain that good connection with Isco and Ronaldo, while also covering his zone well to avoid trouble.
RCM: Asier Illarramendi
Sans Khedira, there's very little threat to Asier's starting role. The only other alternative is Lucas Silva, but he hasn't even settled in. Illarra remembers that this competition damaged his reputation, so he must work to improve it.
CM: Toni Kroos
Returning to Germany might be bittersweet to him, still his current form is causing everyone to feel unsettled. Modrić's return might be the only thing that brings back that Kroos we've seen before.
LCM: Isco
His spark was the only thing that saved Madrid during the weekend. He didn't even play a great match, yet a few plays were enough to help out the team. Even so, he's a fundamental part of this system.
RW: Gareth Bale
One of the few good news on Saturday. Last year this stadium saw the best version of the BBC, with two goals for each member. While that will be hard to repeat, the idea of it should be a motivating factor.
ST: Karim Benzema
He has slowly decreased his usual stellar contribution to the team's football. Maybe with the return of his favorite competition he will go all out. He will be very important in breaking Schalke's crowded five-defender back line.
LW: Cristiano Ronaldo
Another player that heard the Bernabéu booing him from time to time. Everyone's aware that something is happening to him, and it needs to change now. There's no time to be mediocre, as the heavy part of the season has arrived.
(4-4-3)