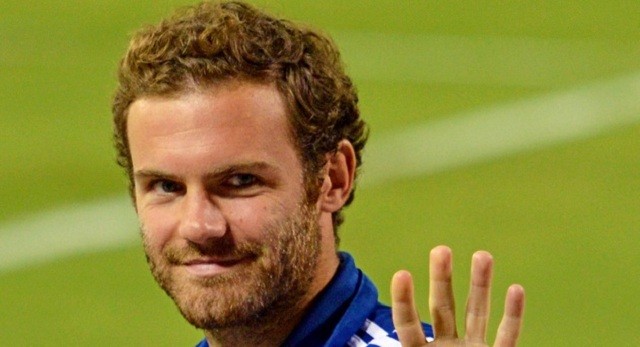 Judging by the recent media reports, Manchester United's current Spanish Armada is about to lose one of the most important elements of their fleet next summer, as Juan Mata will allegedly be placed on the transfer market by the team's officials.
The Burgos-born footballer has reportedly been on Barcelona's radar, that despite their transfer embargo, are willing to present United an offer in order to sign the player and register him in January 2016, as soon as ban is over. Both the English and Spanish media are claiming that the Red Devils are receptive to "lose" some money on Juan Mata by allowing him to leave by a considerably lower price to the one they paid Chelsea back in January 2014.
At the age of 26, Juan Mata is still trying to prove his point at English football. The quality first season he put up under André Villas Boas' stewardship at Chelsea seemed to be an excellent prologue for what was to come, but instead of that, Juan Mata's career seemed to have stalled as the seasons go by.
The arrival of José Mourinho to the London Blues marked the end of Mata's stint at Chelsea but, when no one was expecting, a new window of opportunity opened for him at David Moyes' inconsistent Manchester United. What appeared to be a match made in heaven turned out to be another major bump on Juan Mata's path, since the Spanish playmaker failed to impress during his first season with the Red Devils.
Under David Moyes' leadership, Mata was often used as some sort of wide midfielder, in order to fit the Scottish asymmetric 4-4-2 style, a role that the Spanish footballer clearly wasn't comfortable with.
The 2014-15 season marked the arrival of Louis Van Gaal to Old Trafford and, in theory, a drastic change on the team's tactical void left behind from last campaign. The Dutch manager brought in new ideas and a fairly more populated midfield line, where, regardless of that fact, sometimes there is still no space for such a talented player as Juan Mata, especially now that Angel Di Maria has returned from injury.
Mata hasn't played a single minute in United's last two English Premier League matches and he will certainly struggle to get his place back in the team in the near future. United's current game style does not privilege attack-driven footballers such as Juan Mata and Ander Herrera for instance, as Louis Van Gaal is currently opting for a more pragmatic approach, where there is no place for the "Latin magic" of Spanish skilled footballers.
It is fair to say that Juan Mata is currently not the same dazzling player from his Valencia's days, but at the same time it is also reasonable to mention that, if allowed to play in the right position (as an advanced playmaker or attacking midfielder), the Spanish international would certainly have a word to say both at Manchester United and in English football.
https://www.youtube.com/watch?v=Vs1qWdhTLSQ