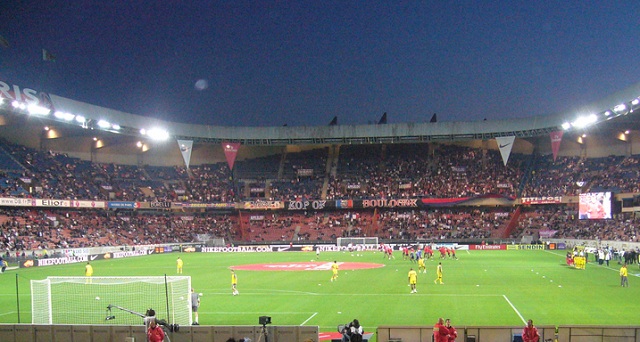 After a two-month hiatus, the UEFA Champions League returns this Tuesday with the last-16 matchup between Chelsea and Paris Saint-Germain highlighting the marquee. This battle is a rematch of the tightly contested quarterfinal from last season's competition and promises to yet again be a highflying affair full of polarizing personalities and world-class players.
Two such men who possess both of the aforementioned traits lead the attacks for their respective sides. Zlatan Ibrahimovic is the 'large-headed' monster at the head of PSG's offense looking to make up for his injury-induced absence in last season's second-leg defeat.
Whether it is with his play, his words, or most recently his body, Ibrahimovic always finds away to get in the news. This past weekend against Caen he scored a brilliant Kung-Fu kick goal, removed his shirt to show off fifteen removable tattoos and was subsequently booked. The booking earned him a one-match suspension even though his tattoos were to spread awareness about world hunger.
On the opposite side of the pitch Diego Costa returns for Chelsea after serving a three-match ban for a stomp on Liverpool's Emre Can. That stomp was certainly not the first controversial moment for Costa this season. However, the striker insists he will not change the way he plays, for it is that same hunger and willingness to do whatever it takes to win that has propelled him to the top of the Premier League's scoring chart.
Costa was not yet a Chelsea player when these two clubs faced each other last season. After a 3-1 defeat in Paris, The Blues were seemingly down and out. Their chances of a comeback looked less likely when Eden Hazard limped off injured early in the second leg. His replacement, Andre Schurrle, pulled Chelsea to within one before half time.
Time was against Chelsea when in the 87th minute Demba Ba bundled home from a few yards out, sparking wild celebrations throughout Stamford Bridge. Manager Jose Mourinho took off down the touchline to meet the mob of players who had piled on Ba near the corner flag and the stadium shook as Chelsea held on to win on away goals.
Neither Schurrle nor Ba remains with the London based club but that does not mean Chelsea are without players capable of a late winner. Last week against Everton it took 89 minutes before Willian broke the deadlock and secured the three points. It was the clubs latest winning goal since the PSG affair. The resiliency Chelsea showed in getting past Everton speaks highly of their ambitions and belief this season.
The match against Everton was their most recent, giving Chelsea a full week to prepare while their Parisian adversaries played on Saturday.
"The rest is welcome for us. In the end they have only one game that we don't have," Mourinho said. "It's only one more game but I welcome this rest for the players."
That one more game may help Chelsea more than Mourinho was suggesting. PSG finished their match with just nine men after a number of injuries left them shorthanded since all three substitutions had already been made. Those injured, including Lucas Moura and Serge Aurier, only have 72 hours to recover in time.
One player who is fit for PSG is former Chelsea player David Luiz. The Brazilian was a hero in Chelsea's Champions League Final victory in 2012. In an interview with the telegraph this week, Luiz revealed he had to beg doctors to let him play through an injured hamstring. Luiz also converted a penalty enroute to the clubs first title.
Chelsea may miss Luiz's vibrant personality but the funds from his sale helped improve the team. Their defense is also stronger in his absence and Mourinho will hope they can once again power past PSG onto the quarterfinals.
Goalkeeper
After a couple of shaky performances Thibault Courtois was replaced by Petr Cech against Everton. Courtois is undeniably a terrific shot stopper but has struggled with the physicality on crosses in the Premier League. Mourinho may again opt for the more experienced Cech against PSG.
Defenders
John Terry, Branislav Ivanovic and Cesar Azpilicueta have secured their spots in the Chelsea back four. The question lies with who will partner Terry in the center of defense. 20-year-old Kurt Zouma has brought speed and strength to the backline.
In 597 minutes of first team football, the Frenchman has not committed a single foul. With a stat like that it is difficult to see how he can be left out of the lineup.
Midfield
Nemanja Matic will be key in stopping the potent PSG attack. The defensive midfielder has been as good as anyone on Chelsea this season.
His strength is present with and without the ball. Matic showed against Everton on a number of runs through the midfield that he can power past defenders and is nimble enough to keep the ball and distribute it forward. It appears as though playing alongside Cesc Fabregas and Eden Hazard has benefitted him.
Fabregas returned from injury last week and looks set to start on Tuesday. With Ramires back in the frame it is possible that Fabregas will be moved into a more advanced position. With the first leg taking place in Paris it is likely Mourinho will opt for a more defensive approach, which would entail Ramires playing alongside Matic.
Hazard looks set to become the face of Chelsea for the next five plus years. The 24-year-old just extended his deal through 2020.
Striker
Costa reached the final last season with Atletico Madrid, losing to city rivals Real. His drive and desire has never been in question with Chelsea, though some will be worried he won't be able to remain on the pitch long enough to make an impact.
Injuries and suspensions have kept him out in recent months. Chelsea will need him to be at his best if they are to advance.
(4-5-1)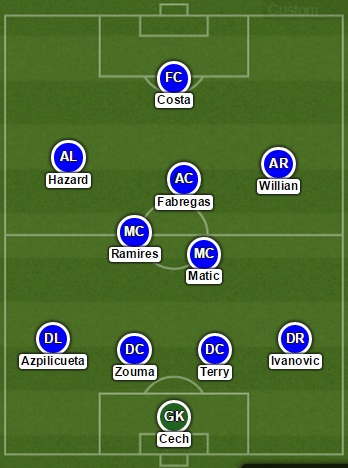 (Via – Lineup Builder)