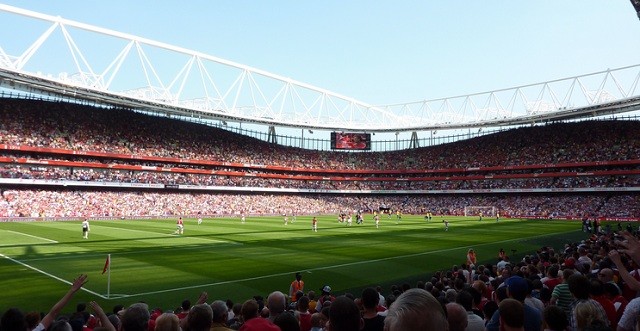 Arsenal face giant-killers, Middlesbrough, in their FA Cup Fifth Round match Sunday at the Emirates Stadium.
Arsenal defeated Brighton 3-2 in the previous round, in what was a match that was not as close as the score line suggests.
Middlesbrough on the other hand, defeated Manchester City 2-0 in the previous round, in a game in which they performed extremely well and thoroughly deserved their victory.
Arsenal will have to brace themselves for Middlesbrough's fighting spirit, spirit that put them above City, andan energetic and committed performance.
We should see a somewhat rotated squad for Arsenal, but Arsene Wenger will be wary to weaken his squad considering their performance Tuesday against Leicester City.
Here is Arsenal's probable starting lineup:
Goalkeeper – Szczesny
Wojciech Szczesny will return in between the sticks as Arsenal's cup goalkeeper. If he puts in a solid performance with a clean sheet, you should see him feature in goal more frequently again.
Right Back – Bellerin
Hector Bellerin had a difficult first half against Leicester but recovered somewhat in the second half.
It's difficult to imagine Calum Chambers coming into this match considering his past couple performances in this position and Wenger won't want to risk an inconsistent performance as this is a very winnable competition for Arsenal.
Center Backs – Mertesacker & Koscielny
Considering that Wenger was reluctant to start Gabriel Paulista on Tuesday, I can't imagine Gabriel starting this weekend. The language barrier must be a real issue otherwise we would have seen Gabriel start the process of integrating into the squad through match appearances more frequently.
Consistency and balance in defense is key for this match, as Arsenal does not want to get caught out like Manchester City did.
Left Back – Gibbs
Similar to Szczesny, Kieran Gibbs is the cup left back currently as Nacho Monreal as claimed the starting place at left back on a frequent basis. Unlike Szczesny, Gibbs has missed out due to injury, not for smoking in the dressing room showers.
Defensive Mid – Coquelin
He got more involved in the attacking and creative department on Tuesday, but it seemed that was due to a lack of creativity by other players and more space being afforded to him in midfield.
He needs to make sure he keeps it simple though and guards the back four while letting the attacking players deal with creativity. He has a good head on him, so there is no reason to think he doesn't know this
Central Mid – Rosicky
With Aaron Ramsey out injured, Tomas Rosicky steps into the central midfield role for the time being at least. Having Rosicky and Santi Cazorla play together in midfield creates an imbalance because they are both number 10's really. Until Jack Wilshere is fit again, and it should be soon considering he just rejoined first team training, Rosicky will marshal this role in midfield.
Attacking Mid – Özil
Santi Cazorla's performances have dropped the past couple matches and maybe a rest is in order. It would allow Mesut Özil to feature in his favored position and allow other wing players to get a chance. It might be for the better of the team, as Cazorla has seemed to lose a little energy the past week.
Wide Right – Walcott
Not fully praised for his performance on Tuesday as there still seems to be something lacking in his overall match sharpness. He did take his goal very well though and has a real knack for scoring lately. This makes him invaluable in a way.
In a way his contributions are very similar to Lukas Podolski's and may have been a reason why Wenger let Podolski go as you can't have too many players on the wing who are phenol finishers but don't contribute wholeheartedly defensively.
In fairness to Theo, he does make a defensive effort, his first touch has been what is letting him down, which is a shame considering that his speed, timing of his runs, his runs, and his first touch are his best attributes and key components to his game.
Wide Left – Welbeck
It was somewhat surprising to not see Danny Welbeck feature on Tuesday, then again he had only just returned from injury over the weekend and he admitted that he felt a jaded and not quite match fit yet.
It's tempting to believe that Alexis Sanchez could start here but after witnessing his performance Tuesday, it's hard to imagine he is healthy enough to start. He should come off the bench and contribute at one point though.
Striker – Giroud
If Alexis is healthy, Welbeck should start up here, as Olivier Giroud has not performed overly well the past two weeks.
In the case that Alexis is not healthy enough to start, a case that seems more likely, Giroud should get the start up front, unless Wenger is feeling creative with Walcott and another combination of players in midfield.
(4-5-1)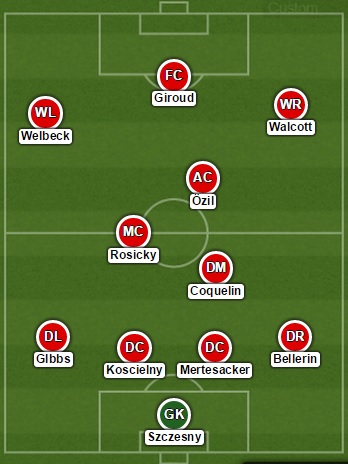 Via – Lineup Builder