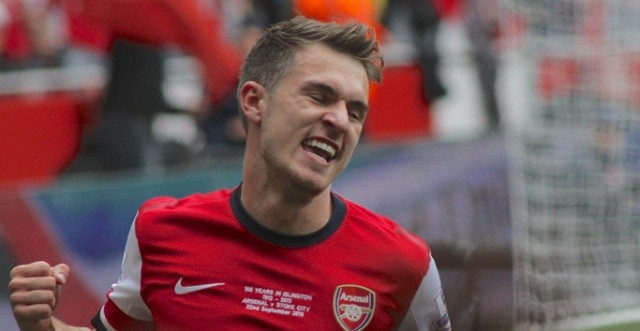 Arsenal received mixed news regarding the injuries of Aaron Ramsey and Alexis Sanchez. Despite grinding out a victory against Leicester City Tuesday night, Arsenal came away from the match slightly disgruntled waiting for the injuries suffered by both Ramsey and Alexis.
Ramsey pulled up after playing only 9-minutes as a sub, with an apparent hamstring injury. This would be his third hamstring injury of this season and is concerning because a recurring muscular problem means there could either be damage somewhere else injured, or its an issue that could come up throughout Ramsey's career.
Ramsey's face said it all when he walked off the pitch to the dressing room. It was an ice cold grimace, a sheer sign of displeasure that told everybody, Ramsey knew exactly what was wrong.
The prognosis wasn't much better according to multiple reports. The Guardian is reporting that Ramsey will miss at least 4 weeks although an official assessment by Arsenal has yet to be confirmed by the club.
This would mean Ramsey would miss an FA Cup match, two Premier League matches, and at least one Champions League match. It's likely that Tomas Rosicky will step up in central midfield while the Welsh star is on the treatment table.
After the match, Arsene Wenger said he was deciding between Ramsey and Mathieu Flamini, and decided to introduce Ramsey because he would insert an offensive engine and energy into the midfield. Wenger went on to admit that in hindsight he now regrets that decision but the injury is not down to Ramsey playing too much.
On the brightside, it seems that Alexis has come out of the match unscathed and could possibly be available for this weekend's FA Cup clash against Middlesbrough.
Alexis, who just returned from a hamstring injury, went down grabbing his knee after a heavy challenge by former Gunner, Matthew Upson. A few minutes letter he went down again grabbing his knee and never quite looked the same.
Wenger admitted he wanted to take Alexis off at halftime but the Chilean wouldn't let him and wanted to run off the injury. When it became clear that Alexis simply wasn't himself and that he was not going to run off the knock, Olivier Giroud came on in his place.
After the match Alexis tweeted, "Sometimes the love for the game and anxiety to be on a football pitch works against you," seemingly an acknowledgment that he should have stopped playing at halftime. Luckily for Arsenal, Alexis is okay, and any anxiety or fear that Arsenal's talisman could miss a large chunk of a critical part of the season, can be allayed.