Table topping Chelsea face struggling Everton this Wednesday (17:45 GMT) as The Toffees attempt to win their first Premier League game at Stamford Bridge since 1994, their only victory away at Chelsea since the first division was renamed in 1992.
The task is no easier this season. Chelsea are dominant at home in the League under manager Jose Mourinho. In ninety home matches with Chelsea, Mourinho has only lost once in league play. This season, The Blues have ten wins and one draw, scoring twenty-five and conceding just four.
It can be argued that Chelsea's style is currently more open as it has ever been under 'The Special One' though the manager's staunch pragmatism has indicated they are capable of getting results under many circumstances. As the season grows older, Mourinho is moving to a more controlled system in order to cope with injuries and preserve the team's lead atop the table.
Chelsea, rather than setting up to out score opponents as they were doing in the first third of the season, are now more focused on closing down space and counter attacking. Against title rivals Manchester City two weekends ago, Chelsea recorded their lowest shot total at home in twenty plus years. However, they prevented City from creating opportunities and earned the draw, a result that favored the London club in the title race.
Eden Hazard struck early on the counter-attack against Aston Villa on Saturday but Chelsea failed to create much else in the first half. After the break they allowed Villa to score their first goal in 660 minutes and looked second best for the next fifteen minutes. They held strong defensively through that period before regaining control of the match.
In the 66th minute Cesar Azpilicueta darted down the left before entangling himself with Villa's Jores Okore. The defender failed to clear and Azpilicueta floated a cross into the box that met the unlikely foot of Branislav Ivanovic whose left-footed half volley flew past a stunned Brad Guzan into the top corner. It was the fullbacks third Premier League goal of the season and first since Chelsea's 6-3 win against Everton in August.
Chelsea controlled possession for the remainder of the match, introducing John Obi Mikel to add defensive stability to the midfield. New signing Juan Cuadrado made his debut late in the game. The Columbian winger offered devastating pace and acted as an efficient shield for Ivanovic. Mourinho, who demands that his wingers track back, was surely impressed with the tactical proficiency of the debutant.
The victory was massive for Chelsea in more than one way. It was Mourinho's first win in six attempts at Villa Park, and Chelsea's first win at the venue in three seasons. Chelsea proved they could win without their set-em-up, knock-em-down duo of Cesc Fabregas and Diego Costa. More importantly, with Manchester City faltering yet again, Chelsea extended their Premier League lead to seven points with just fourteen matches to play.
For the first four months of the season, points came easy. After a tumultuous holiday period Chelsea are showing they are capable of winning in numerous ways and with a rotating lineup. Due to injuries and suspensions Mourinho has been forced into making more changes in the last three weeks than he had in the previous three months.
However that is hardly slowing Chelsea down. Chelsea's advantage is that Mourinho refuses to allow his teams to be branded with a single indentity. Rather he invents a new persona each match based on the opponent at hand. His tactical pragmatism gives Chelsea the edge on Wednesday.
Goalkeeper
Thibault Courtois was not even two-years-old when Everton last won a league match at Chelsea. The Belgian has been in fine form this season and is among the league's top shot stoppers.
Defense
The Chelsea defense had an interesting match against Aston Villa. They gave up a goal, Villa's first in seven matches but also scored the winner for Chelsea. Gary Cahill was selected ahead of Kurt Zouma despite Zouma's dominant performance against Manchester City the previous week. It was also Zouma, not Cahill who was apart of the defense that shut Liverpool out for 120 minutes.
Mourinho's choice against Villa does not necessarily mean he is unsure of his best back four. It could instead indicate that he trusts Cahill less and was giving him a chance to redeem himself against a lesser opponent. Zouma looks stronger, faster and more confident than Cahill at the moment and is likely to start against Everton.
Ivanovic has also been in fine form recently. The fullback is a favorite of Mourinho's due to his tenacity and aversion to injury. He did brilliantly to score the decisive goal last weekend. Look for him to lineup alongside John Terry and Azpilicueta.
Midfield
The recent injury to Cesc Fabregas has been as well timed as it could possibly be. Though there is no one who can replace his creativity and passing, there are some players who can provide defensive cover in his stead now that they've returned to health. Ramires and Mikel has both been used alongside Nemanja Matic in recent matches.
Ramires, who has missed much of the season, was Fabregas' replacement for the last two league matches. His speed allows him to close down space when opponents are on the attack, and proved crucial against City. With a number of key interceptions, his defensive work in the midfield was vital to Chelsea. Ramires also provides another dimension that Fabregas cannot: surging runs of thirty plus yards through the defense. Even without the ball those runs are dangerous as they open up space for the rest of the team.
Fabregas is reported to be available for the match against Everton after returning to full training early this week. It remains to be seen whether or not he will slide into the deep role that he has occupied for most of the season, or play in a more advanced position that is typically occupied by Oscar.
Eden Hazard has played more for Chelsea than any of the midfielders this season. There is no question he could benefit from some rest. However, his performances have been so stellar than it is impossible for Mourinho to bench him. Furthermore, Hazard has yet to sign an extended contract and upper management will be keen on keeping the player active and happy. The young Belgian added his ninth goal of the season last weekend.
The arrival of Cuadrado puts pressure on Willian and Oscar to perform. Willian has struggled offensively this season but remains in the lineup because of his ability to defend down the wing. If Cuadrado can show he is capable of the same back tracking then it won't be long before he is given a start.
Defending the wings will key in this match as Everton strength lies in their fullbacks abilities to overlap with the midfielders and get forward. If Willian and Hazard can stifle those attacks, Chelsea will remain in prime position to win the three points.
Striker
Diego Costa serves the last of his three-match ban against Everton. Didier Drogba was given the start in his absence but failed to impress. In sixty minutes the Ivorian failed to impose his will on the match.
Loic Remy added much needed pace upfront upon replacing Drogba. With Remy leading the line, Chelsea created a number of chances and appeared more potent in attack. Look for the Frenchman to start on Wednesday.
(4-5-1)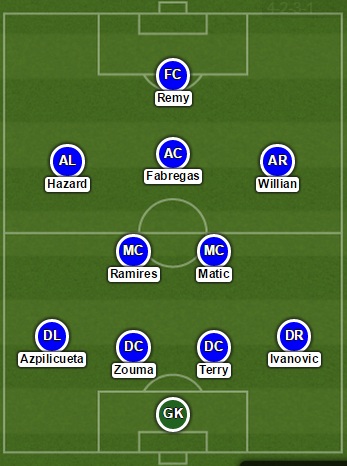 Via – Lineup Builder