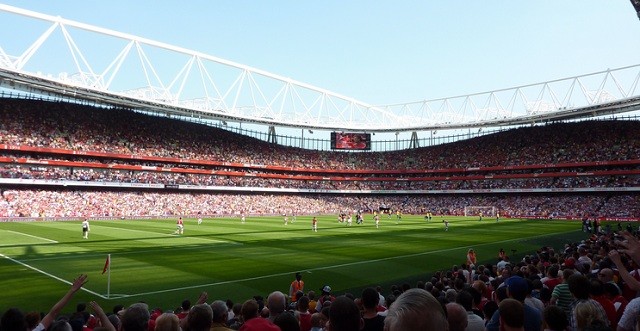 Arsenal face a quick turnaround when they play Leicester City Tuesday night at the Emirates, two days after their disappointing performance against Tottenham. Most in the squad, including the manager is most likely thinking this fixture can't come soon enough.
Nothing fixes a poor result and performance like a match in quick succession and a good result to along with it.
Arsene Wenger will field a changed side from the one seen Saturday. Alexis Sanchez returns from injury, Gabriel Paulista should make his debut, Kieran Gibbs and Tomas Rosicky will make deserved starts after being kept out of the starting eleven due to other player's exceptional form.
The Gunners are facing a Leicester side whose manager is embroiled in controversy. It appeared that Nigel Pearson had been fired over the weekend after seemingly strangling an opposition player while he was on the ground.
Pearson hasn't been fired it turns out, although its not quite that simple. It seems that he had been fired, only for the upper hierarchy to change their mind and not fire Pearson. What's even stranger is that neither Pearson nor the club is denying this story. It's also unclear if Pearson will face punishment from the FA for his actions.
Needless to say this is a distracting story from the actual match because it's highly unlikely that this issue affects Leicester's performance. Even if it does, Arsenal cannot expect this to be the case and must phase the overarching story, focus on the task at hand and trust that Leicester won't be distracted. In the Premier League, any dip in form and loss of concentration can mean a loss, regardless of the opposition.
Here is Arsenal's probable lineup:
Goalkeeper – Szczesny
David Ospina was unimpressive against Tottenham. Yes, he made a number of decent saves but he parried most of those saves back into danger. He also looked nervy in the air and his distribution was horrendous. Ospina hasn't done anything to prove that he is the number one goalkeeper at the club, but it's still his to lose.
Wojciech Szczesny wasn't overly impressive in his last performance, however it wouldn't be surprising to see Ospina dropped considering how unconfident he looked against Tottenham.
Right Back – Bellerin
Hector Bellerin suffered a difficult performance against Tottenham. He was caught out of position quite a bit, especially in the first half, and he failed to get up the pitch when transitioning to attack. In fairness to him, he wasn't the only player who had difficulty with that.
Dropping him would be harsh and wouldn't do him any good. Calum Chambers could use the game time possibly, but right back is not his position and Bellerin should bounce back with a good performance.
Center Backs – Mertesacker & Gabriel
Gabriel will make his Arsenal debut and play alongside Per Mertesacker, replacing Laurent Koscielny in the lineup.
Wenger needs to integrate him into the squad and this is a perfect match to do so. It's at home, it's midweek so other players could use a breather, and it's against the bottom of the table club.
That's not to say that Leicester are to be taken granted for, but it's hard to argue that this is not the perfect scenario to start integrating Gabriel into the first team.
Left Back – Gibbs
Nacho Monreal has been excellent, and was one of the better Arsenal players against Tottenham. However, Gibbs needs and deserves game time, after all he is still Arsenal's long term left back.
It's good to rotate out your fullback's every once in a while, as it is a demanding position, especially in Arsenal's system where full backs are expected to contribute not only in defense, but also in attack.
Defensive Mid – Coquelin
Francis Coquelin wasn't his usual rambunctious self over the weekend but he didn't get much help from his midfield partners and constantly found himself having to deal with Christian Eriksen, Bentaleb, and Mason on his own.
He should reassert himself in this match, it can't be expected that he play every single match the way he did against Manchester City.
Central Midfield – Rosicky
Tomas Rosicky was brought on over the weekend and looked livelier than both Santi Cazorla and Aaron Ramsey. Rosicky has been in good form and seeing this is a match where rotation should be expected, Rosicky is first off the bench to get a start.
Attacking Mid – Özil
Mesut Özil will get his first start in the number 10 role since his injury. Cazorla was poor against Tottenham and a weeks rest could do him some good.
While Özil has only just returned from injury, physically he has looked good. Tottenham wasn't his best performance but he was given little service and was unable to give much service as no one made themself available.
Three goals in three games is a good sign though, and he has made in impact in every match he has played in since returning from injury.
Wide Right – Walcott
Theo Walcott will replace Olivier Giroud in the starting lineup, meaning Danny Welbeck will move up to striker.
He deserves the start and needs it if he is going to regain the top free scoring form we witnessed the two seasons before his unfortunate knee injury.
With Alex Oxlade-Chamberlain out a further two weeks, this a good opportunity for Walcott to cement his position in the first team and reclaim the wide right role.
Wide Left – Alexis
Alexis returns from a hamstring injury and should start where he left off. Wenger claims Alexis' starting status will be decided on Tuesday but it's unlikely that Alexis is left out, especially considering that Wenger admitted that Alexis could have played against Tottenham if it was the last game of the season.
The reason for leaving Alexis out of the lineup over the weekend is understandable. It's too risky to risk Alexis' health, especially with a muscular injury, at this stage of the season. Arsenal is still fighting on three fronts, and one small tear or strain could have ruled Alexis out for the season and would alter Arsenal's season.
Saving Alexis and keeping him healthy will ensure Arsenal continue to fight on all three fronts deep into the season.
When discussing Alexis, Wenger compared him to Arsenal legend, Ian Wright, Arsenal's second all-time goal scorer. He compared the shared drive, energy and determination they have on the pitch, but also the genuine, bubbly and overly nice guy personality they have off the field and in the dressing room.
Striker – Welbeck
Giroud could not assert himself against Tottenham. The service wasn't there, neither was the referee protection. Giroud did not do himself much help though either, as his passing was off, and he looked injured for most of the match.
Welbeck will step up in this role after making his return against Tottenham. Welbz looked lively, though not sharp over the weekend. This match will be a good opportunity to regain that match sharpness and allow Giroud to rest and regain some health.
(4-5-1)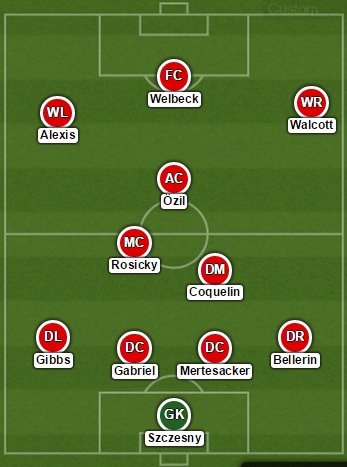 Via – Lineup Builder