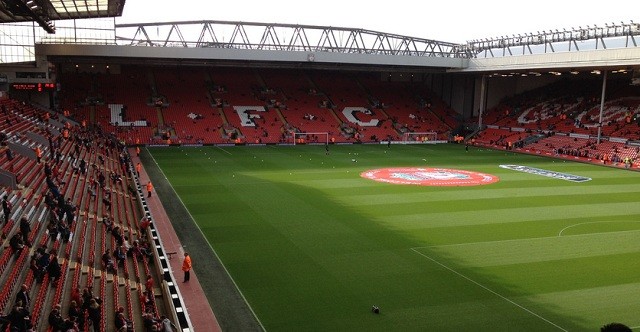 With a 0-0 draw, the Merseyside Derby came and went with little furor but Brendan Rodgers and Liverpool should still be happy by the fact that they remain in great position in the race to a Champions League spot. They could be in even better position by the middle of this week if they are able to get a positive result from a match against Tottenham on Tuesday.
The team as a whole should come into the match with lots of confidence since they have beaten the Spurs by 5, 4, and 3 goals the last past three matches. However, the opponents are also arriving with some of their own confidence since they are coming off a massive 2-1 victory in the North London Derby against Arsenal.
Goalkeeper
Simon Mignolet only made one true save but it was a quality save from a Seamus Coleman shot that took a deflection off of Sakho.
He will almost definitely face a many more shots against Tottenham with the in-form duo of Harry Kane and Christian Eriksen scoring goals by the buckets the past few weeks.
Center Backs
Emre Can once again showed his usual mix of quality defending and impressive bursts forward but was not able to reproduce the magic like he did against Bolton. Martin Skrtel was physical as usual Mamadou Sakho looked uncomfortable with the ball at times and was the weakest player on the back four.
All three will need to work together to stop the monster that is Harry Kane. The 21-year-old is Tottenham's leading scorer with 12 goals and his two goals against Arsenal in the North London Derby only highlighted his talent even more.
Right Midfield
Jordan Ibe started the game really well and almost broke the tie with a fiery shot in the 26′ minute that beat the Everton 'keeper but hit the post. With Lazar Markovic still feeling some effects of the back injury he suffered against Bolton, Rodgers should not be afraid of starting Ibe.
As great as he is going forward, he will have to make sure he does not slack on his defensive duties as well with the troublesome Nacer Chadli on his flank.
Center Midfield
Jordan Henderson kept the team moving with his passing and ability to retain possession.The vice-captain is leading the team with 6 assists and he could have an opportunity to add to that total this week.
With Lucas Leiva suffering an injury early in the Merseyside Derby, Rodgers will have to assess who will be the best possible replacement for the Brazilian. Even though Joe Allen has been the first choice substitute in the defensive midfielder role the past few matches, Rodgers could also start either Steven Gerrard or even Emre Can if he really wants to switch it up.
Whoever lines up in the center of the pitch will have to make sure they keep track of where Eriksen is at all times and to also avoid fouling him since he has been on fire with his free kicks as of late.
Left Midfield
Alberto Moreno was not able to really get forward since he had to deal with the forays of Coleman and he will probably have to do much of the same against the London club with Erik Lamela as his opposition. The Argentinian has 4 assists so far this season and as such, Moreno will need to make sure he doesn't give Lamela any space to cross the ball in.
Forwards
Both Raheem Sterling and Philippe Coutinho were substituted off during the second half, presumably to rest them for this upcoming match, but they should be their usual selves against Tottenham.
They may find themselves without much space since the Spurs start two holding midfielders to protect the defense but their creativity, speed and passing should allow them to find holes to take advantage off. Daniel Sturridge could make his long awaited start during this week's match and he should be very motivated to perform well since this team was the last one he faced before his long injury spell on the sidelines.
(3-4-3)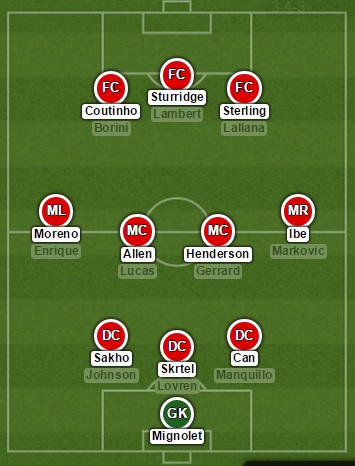 Via – Lineup Builder