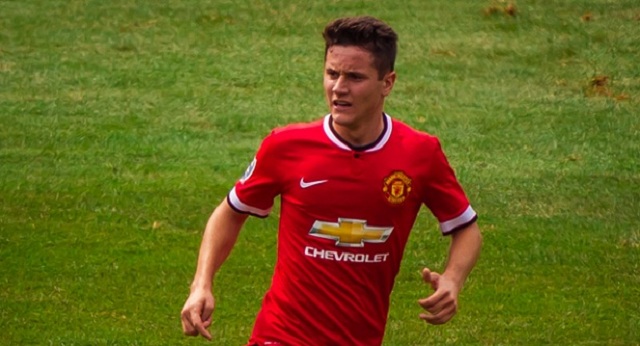 Upon signing for Manchester United, Ander Herrera had said, "I would never have left Athletic if it hadn't been for a club like United."
However, Manchester United's newcomer Ander Herrera is definitely not having the time of his life at the club he once dreamed of. The young Bilbao-born midfielder who, not so long ago, was the key element of Marcelo Bielsa's powerful Athletic is now a benchwarmer at United and his future at Van Gaal's team does not look bright.
Ander Herrera has only started two of United's 24 English Premier League matches so far this season and Van Gaal's recent conservative approach will probably not benefit a player such as the 25-year old Basque. In a recent interview, Herrera told the media that he respects the manager's decisions and that he would be ready if asked to help the team.
These highly professional words probably do not represent what is really going on in Herrera's head and probably do not serve as well to hide the immense frustration he is certainly feeling at the moment, especially after leaving the place he used to call home and the possibility to play in the UEFA Champions League for a team that hasn't even managed to grant European football this season.
All these mixed feelings must be taunting Herrera but it would be interesting to try to understand why Louis Van Gaal seems reluctant to open the doors of the starting line-up to such a remarkable footballer as Ander.
Herrera's current situation at United is definitely not easy to explain and probably only the charismatic Dutch manager may be able to offer some insights about his sometimes questionable approaches. Back in his glory days with Athletic, Herrera assumed very different roles in the centre of pitch, whether as regista or even a bit forward as an advanced playmaker or as an attacking midfielder.
Marcelo Bielsa once told him that if he continued to improve at that rate, he would easily become one of the best centre midfielders of the world, but apparently Van Gaal doesn't agree with such premise.
The Dutch manager is yet (or simply doesn't want to) find a place for Herrera in his 3-5-2 slightly more conservative recent approach. The Bilbao-born player is, above all else, a fantastic playmaker that loves to have the ball close to his foot and that enjoys to create goal chances for his teammates. His remarkable vision and passing skills should have transformed him into United's playmaker in the first place, but Van Gaal had and has a different interpretation on this particular topic.
The lack of ideas in United's midfield line is blatantly obvious and this is probably a good time to ask why Herrera hasn't been given the opportunity to command that leaderless midfield.
Unfortunately for United supporters, the answer to such enigmatic question seems to be fairly simple: Van Gaal does not enjoy Herrera's quick thinking and passing style and he is not willing to give the sixth most expensive player in United's history a proper opportunity for him to show his real value.