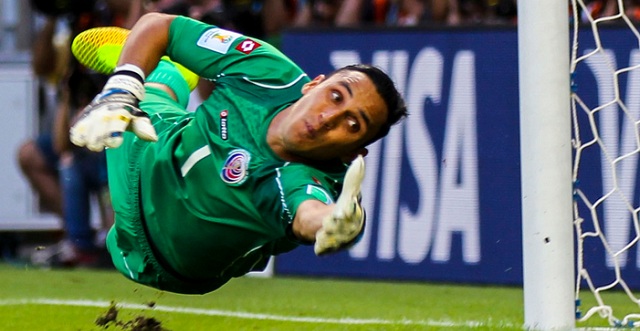 According to FIFA Agent François Gallardo, Keylor Navas has told Real Madrid that he wants to leave in the summer. The Costa Rican keeper has a firm offer from an undisclosed club and is inclined to accepting it very soon.
The 28-year-old arrived last summer following his great La Liga season and sensational World Cup. Keylor came in to replace Diego López, as the Spanish was on his way out. Even though Navas could start in almost any team, teammate Iker Casillas had the upper hand.
Carlo Ancelotti gave Casillas the starting role, but assured Navas the entire Copa del Rey. In addition, the Italian gave him a few matches in La Liga and in the Champions League. Following the elimination from the cup, he's only played seven matches.
While there were rumors this would be Casillas' last season, his renewed importance is blocking a potential exit. Keylor and his inner circle would be very dissatisfied with how the club has treated him.
Should the captain leave in the summer, Navas becoming the starter would become more likely. Nevertheless, a lot would have to happen to make the sub change his mind. This would be a huge loss and result in bad business for Real.
We'll have to wait until the end of the season and see how next season's planning unfolds. If he leaves, Madrid would be forced to look for another substitute goalie. Convincing a great one to come and experience the same as Navas wouldn't be easy.