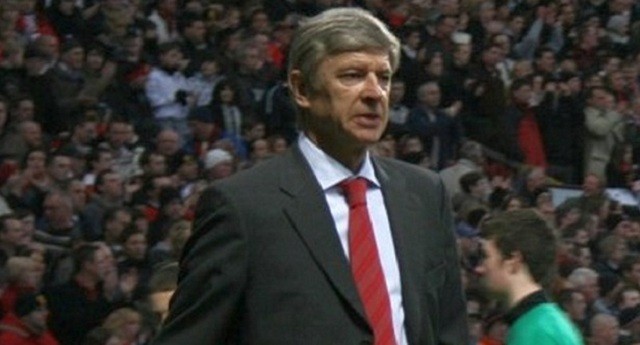 The North London Derby is upon us as Arsenal travel a couple minutes to White Hart Line.
Both teams are in good form and only 2 points divide the rivals, with Arsenal sitting in 5th and Tottenham in 6th.
Arsenal will be missing their talisman, Alexis Sanchez, due to a hamstring injury. Alexis missed last weekend's affair against Aston Villa but should be fit for Leicester City on Tuesday.
This means that Arsenal's lineup will most likely be unchanged as the only returning player is Danny Welbeck, who has finally returned from a thigh injury.
Here is Arsenal's probable starting lineup:
Goalkeeper – Ospina
Five starts, five clean sheets. No reason to expect Wojcich Szczesny in goal during league matches any time soon.
Right Back – Bellerin
He has been in excellent form. If not for Santi Cazorla and Mesut Özil, Hector Bellerin would have been the man of the match against Aston Villa. His goal showed the high technique that the young Spaniard posses.
Center Backs – Mertesacker & Koscielny
It's too soon and too of an important match for Gabriel Paulista to make his debut, expect him to start on Tuesday against Leicester. In the mean time Per Mertesacker and Laurent Koscielny will continue to show why their partnership was so formidable last season.
A full weeks rest will allow Koscielny to continue to strengthen his Achilles. He has looked a bit off the past two games, however his performances have not been poor, its merely a small dip compared to usual excellent self.
Left Back – Monreal
The spell at center back has given Nacho Monreal an edge to his game. He is keeping Kieran Gibbs out of the first team, an impressive feet considering that this has been Gibbs' most consistent and impressive season of his Arsenal career.
Gibbs will likely feature on Tuesday as Arsene Wenger will realize the importance of rotating his squad and keeping players such as Gibbs match sharp and fit.
Defensive Mid – Coquelin
Francis Coquelin has been praised throughout the week by teammates and Arsenal legends a like. He will face a test in the derby, which is usually a contentious affair. Based on previous performances, you could expect Coquelin to lead the contentious affair.
Central Mid – Ramsey
There is a real debate about who is the better option here, Tomas Rosicky or Aaron Ramsey. Rosicky may be playing better but those performances have mostly come in the number 10 role, which Cazorla currently occupies, and against lesser opponents.
Wenger will stick with Ramsey because this selection has proved to have a winning formula so far. Rosicky is a phenomenal option to have off the bench, and is a sign of Arsenal's depth.
Attacking Mid– Cazorla
Again voted as the PFA Player of the Month, he is in formidable form, keeping Özil out of his preferred position.
Wide Right – Walcott
Alex Oxlade-Chamberlain is out injured until likely next weekend and Alexis will likely miss the derby due his hamstring injury, this is according to Wenger at least, not Alexis who claims who still thinks he can play.
Theo Walcott will get his third straight start and will look to score a third goal in as many games in a row.
Wide Left – Özil
Özil again starts on left but perhaps this is not as much of a concern as it used to be. Arsenal looked fluent with him on the left and he was just as good as Cazorla was.
Like Wenger said, Özil will be allowed to drift to the middle and that will happen again against Tottenham.
Striker – Giroud
Olivier Giroud bagged a goal last weekend and looked better than he did against Brighton. Welbeck is back but will have to fight for a place in the first team currently. Right now he looks like Arsenal's best attacking option coming off the bench.
(4-5-1)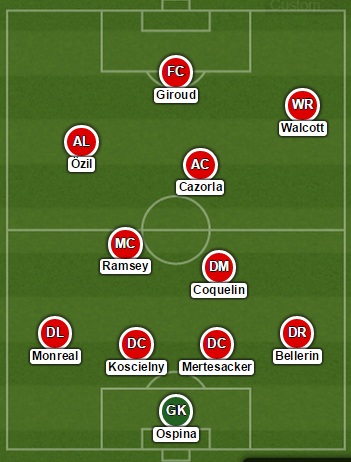 Via – Lineup Builder