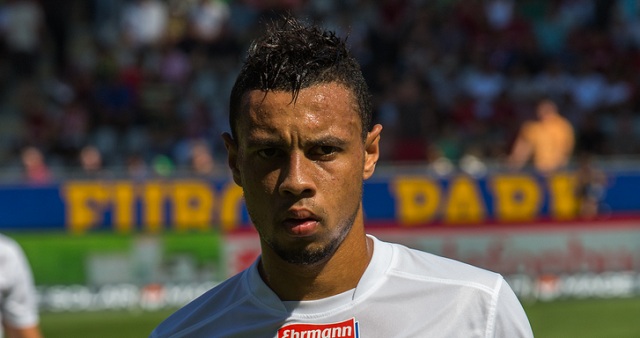 Chuba Akpom has signed a new long-term contract with Arsenal, keeping him at the club until the summer of 2020. His signature puts to rest persistent rumors that Akpom would be leaving this summer.
There had been speculation that Akpom would sign on a free with another club with Dortmund, Twente, and a host of English clubs mentioned as possible suitors.
Akpom has been with Arsenal since the age of 8 and would have been a shock and serious loss if Arsenal were unable to extend a highly regarded, homegrown youngster.
It seemed that Akpom was looking for reassurance to his long-term future, not just a financial commitment from Arsenal, but more importantly by being involved in the first team on a regular basis.
With the loan departures of Yaya Sanogo, Lukas Podolski, and Joel Campbell, Akpom has feature off the bench in about half of Arsenal's matches this month. He looked lively against Brighton, and dangerous against Aston Villa where he drew a penalty and got himself in a couple dangerous positions only to scuff his chances.
Against Villa it was clear that his teammates were trying to get him involved and were looking for him to score. Santi Cazorla played him in well, only for the ball to get stuck under Akpom's feet when shooting. Another chance, Akpom turned well into the box, showing pace, and forced Brad Guzan to take him down in the box. Per Mertesacker also put in a nice cross to Akpom, only for his header to, unfortunately go straight at Guzan.
Akpom posses great pace, touch and dribbling ability. He is a formidable physical presence as he stands at a towering 6"3. The combination of his pace, technique, age and clear ambition are signs of the tremendous talent that Akpom is.
Akpom is likely to feature on the end of the match against Tottenham, along with possibly Danny Welbeck.
While announcing Akpom's contract extension, Arsene Wenger also confirmed Francis Coquelin had extended his contract as well. It had been speculated for a week that Coquelin had put pen to paper already, and Wenger's confirmation made it official.
Coquelin has made it clear that there is nowhere he would rather be than his "second home" and the club he has played for since 2008. He also stated that he doesn't see why his form should dip and expects to be a regular first team contributor for years to come.
Its good to hear loyalty from to young Gooners who both are tremendous talents are should play an important role in Arsenal's present and future.
https://www.youtube.com/watch?v=_DGyMNdYMXE