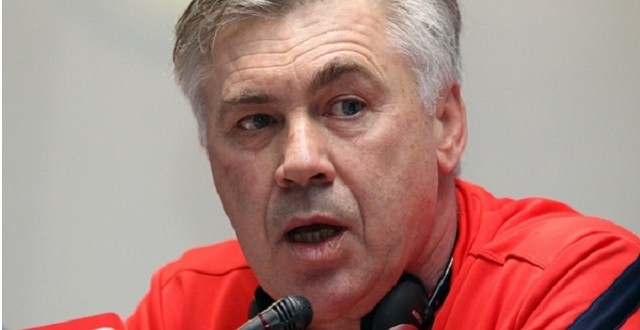 The La Liga match between Atletico Madrid and Real Madrid will take place at the Vicente Calderon in Madrid, Spain, on Saturday, February 7th, 2015 at 7am Pacific.
Real Madrid
Carlo Ancelotti has an important crisis to deal with. The pursuit of the world record for consecutive wins is finally generating consequences.
It has been confirmed that Sergio Ramos will be away for five or six weeks, while James will be gone for two or three months. This leaves the squad very weak, especially the defense. Pepe hasn't recovered yet and the Italian will send out Nacho and Varane. Check out our in-depth lineup analysis here.
Another problem for Real is that all committees have rejected their appeal to remove Marcelo's booking. Because of this,it seems that the starting left back will be Coentrão. The Portuguese is part of the 20 members that were called up.
Arbeloa had everything to start, yet if Fábio is completely recovered, his tactical strength is of great help. There's no doubt that Los Blancos will arrive to this match with many problems.
Players to watch: Benzema, Isco and Ronaldo.
Atlético Madrid
Simeone is blessed, as he has all of his players available for the game. Consequently, he can send out his stellar lineup and have super subs ready to revolutionize.
Mandžukić is a no-brainer, as his aerial strength must be exploited against the smaller Real defense. El Cholo confirmed Griezmann and the Croatian will start, while Torres would wait for his moment.
Atleti will stay true to their style and play with intensity. Los Colchoneros haven't been able to beat Real at home since 1999, and with their current motivation, it's the perfect time to do it.
They have to stay close in La Liga, as they are currently seven points behind. What's clear is that FC Barcelona will be the clear winner regardless of the result.
Players to watch: Griezmann, Mandžukić and Koke.
Atlético Madrid v Real Madrid Prediction
Simeone's men have a good record after the Champions League final. In the last five matches they have beaten Real three times and drew twice.
In addition, their home factor is usually very important. Real have a plethora of sensitive injuries and will have to work harder if they want the three points.
Atlético Madrid 1 – 1 Real Madrid
Atlético Madrid v Real Madrid TV Schedule
The game will be broadcast on beIN Sports and it's online streaming platform. For your local time please check here.