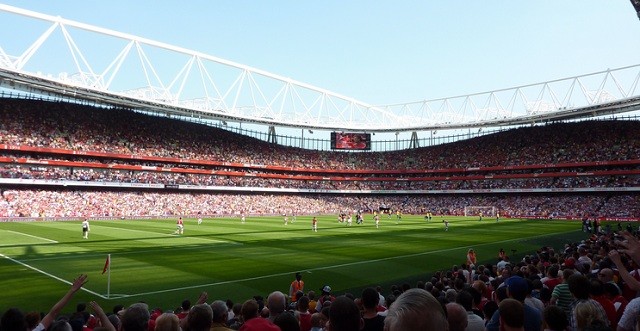 Arsenal will look to win three matches in a row for the first time in the Premier League this season, when they face Aston Villa at home on Sunday.
The Gunners have come close twice, only to be thwarted in their quest for three successive wins, by Southampton and Stoke City. This has come to be a point of frustration for Arsene Wenger and has clearly hindered there success in the league this season.
Last season Arsenal were in first place at this stage of the league, with 51 points on 22 matches, that is 1 point fewer the current leaders, Chelsea. Right now the Gunners sit in fifth place with 39 points on 22 matches. Third places is very much in their grasp though as the different between fifth and third is a mere 3 points.
Things are looking up for Arsenal though, having won 4 matches in a row, 2 of those FA Cup matches, and having done so in impressive fashion. Last weekend Arsenal were in control the entire game, although they made it seem otherwise for short periods of time by letting Brighton get in reach twice, but never letting their lead slip.
Aston Villa have failed to score much this season, Arsenal don't have this issue and have the most goal scorers in the league this year. Arsenal will certainly look to capitalize on that statistic.
Here is Arsenal's probable starting lineup for this weekend:
Goalkeeper – Ospina
Wojciech Szczesny did not have a poor performance against Brighton last weekend, although he did concede two, there was nothing he could do about either really. At the same time though, nothing he did particularly stood out. If he had stopped Brighton's second goal than maybe this could have been a different selection.
Wenger has said that Szczesny's focus and commitment at training is much higher since was dropped and that the Pole is certainly fighting to reclaim his place in the starting eleven. I wouldn't be surprised to see Szczesny back in the lineup as soon as David Ospina blunders.
Right Back – Bellerin
Hector Bellerin was injured and only made the bench last weekend but he is fully fit and playing better at right back than Calum Chambers, whose future clearly does not lie at this position.
Center Back – Mertesacker & Koscielny
#GabrielisaGunner pic.twitter.com/2Q7fkcrSHH

— Arsenal FC (@Arsenal) January 30, 2015
Many may be hoping to see new boy Gabriel Paulista start this match, but Wenger made it clear that he would be in the squad but it is too soon for the new signing to start. Gabriel needs a period to adapt to the squad and create a line of communication. He doesn't speak English yet and this could be a problem for now, especially at center back.
Gabriel should feature on the bench and could make his debut off of it. In the meantime, when Laurent Koscielny and Per Mertesacker are playing together, Arsenal's back four looks solid, so no reason to be concerned.
Left Back – Monreal
The competition at this position is healthy and right now Nacho Monreal is performing slightly better. Kieran Gibbs put in a solid shift against Brighton but did nothing to indicate he should be ahead of Monreal in the pecking order right now. Unless Wenger is seeing is something in training that we can't, Monreal starts.
Defensive Mid – Coquelin
Outperforming Mathieu Flamini by miles and provided a calming presence during the last 20 minutes of the Brighton match.
It's not unreasonable to expect Francis Coquelin to continue his excellent form and has given Wenger excellent reason to not spend on a defensive midfielder this transfer window.
Central Mid – Ramsey
He has played well since returning from injury, although he missed his shooting boots during the added on time against Brighton, when he scoffed a shot after an excellent cross.
His form will continue to improve and will be a reason why Arsenal finish the season strong.
Attacking Mid – Cazorla
It seems that whoever plays in this position has an excellent match for Arsenal the past couple weeks. First it was Santi Cazorla against Manchester City, then Tomas Rosicky against Brighton. Cazorla is ahead of Rosicky in the pecking order currently, meaning that Rosicky is an excellent option off the bench.
Wide Right – Walcott
With Alex Oxlade-Chamberlain out for this match and Danny Welbeck still out injured, Theo Walcott will get his third start of the season and his first in the league. He performed well against Brighton, looked dangerous with the ball at his feet and off his feet. He took his chance extremely well, something that can only do wonders for his confidence in front of goal.
He admitted after the game that he was grasping for a bit before being taken off, but with another match under his belt and another full week of training, his fitness is growing as should his presence on the pitch.
Wide Left – Özil
Alexis Sanchez has a small hamstring problem, Wenger did not dub it an injury necessarily, and it seems that the sentiment is he will be rested for this match. This means that Mesut Özil will step in and make his first start in league since October.
Although he will lineup in this position, Özil and Cazorla will switch from center to left throughout the match. Özil naturally drifts to the center of the pitch where he is most affective in attack anyways.
One thing that we may see is when Aston Villa have the ball is, we may see Cazorla switch to the left to provide defensive cover there and Özil move the center to provide cover there. Cazorla is better defender than Özil and Arsenal have been exposed on the left hand side when Özil is defending there. With Coquelin providing a stronger defensive presence in the middle, it might be more practical for Arsenal to have Özil focus his defending on the middle of the pitch. This could also aid Arsenal's counter attacks.
Striker – Giroud
With Welbeck out injured, Olivier Giroud will get the start. He was not impressive against Brighton. His passing was off, although his assist to Rosicky was well place, his hold-up play was poor, and he seemed low on energy and commitment.
It's possible he underestimated Brighton and therefore he was not right mentally, however this has to change against Aston Villa, who he cannot underestimate.
Chuba Akpom looked lively and pacey against Brighton, he certainly indicated he could be an option off the bench if Giroud plays poorly against Villa.
 (4-5-1)
Via – Lineup Builder