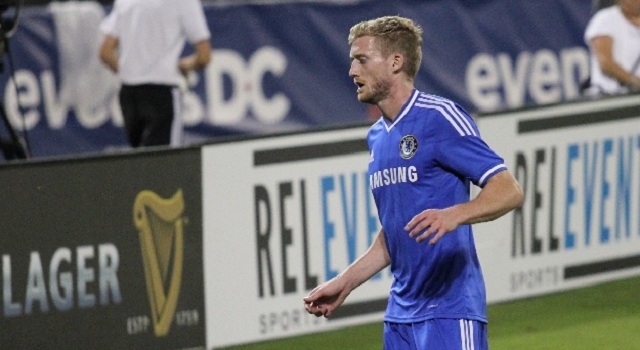 As the January transfer window draws to a close, it appears as though Andre Schurrle's future lies elsewhere, away from the Bridge. More specifically, he seems set for a move to Wolfsburg.
Contrary to Mourinho's statement that nobody will be leaving the club this window, reports coming in from Daily Mirror claim that the German club is lining up a £22.5 million deal for the world cup star. The player's agent also confirmed that a verbal agreement between the two clubs has been reached.
It is widely believed that the decision to sell Schurrle is as a result of the arrival of Juan Cuadrado from Fiorentina.
The German international has endured a poor 2014-15 campaign, failing to overtake Willian in the pecking order. Most of his appearances this season have been restricted to brief cameos off the bench, showing the manager's lack of faith in him. The transfer of Cuadrado thus, put the final nail in the coffin.
Regardless of Schurrle's indifferent form this season, his sale is likely to raise a few eyebrows. Several of the club's supporters have not given up hope on the winger yet. They believe he should be given more chances to prove his worth and rediscover his impressive form of last season.
Others question the coach's decision to buy another winger despite the team's array of options in that department. This group likens the acquisition of the Colombian international to that of Salah (another player Chelsea didn't really need at the time and still don't need now) whose talents were eventually wasted on the bench. It is therefore somewhat ironical that Salah was the player included in the deal to bring Cuadrado to London.
The former is headed to Fiorentina on loan. Granted, Cuadrado may not share the same fate as the Egyptian international due to his undoubted talent –he's arguably a much better winger than Salah– but with a team like Chelsea, nobody knows.
Schurrle's move to Wolfsburg, if successful, will benefit both the player and the German club. For one, breaking into the starting eleven won't be much of a problem, as no team (not named Chelsea, Real Madrid, PSG, etc.) spends that kind of money for a player that is not an integral part of the manager's plans.
econdly, his direct style of play will fit right in with Wolfsburg's impressive counter-attacking play, as witnessed in their 4-1 evisceration of Bayern Munich. Add that to the fact that the core of Die Wölfe's current team are in their early twenties and, barring any major departures, you have a major force to be reckoned with in European soccer for the foreseeable future.
All the aforementioned considerations, coupled with Chelsea's willingness to sell, give the deal a very high chance of becoming successful.
https://www.youtube.com/watch?v=uPeOjkAc12I
https://www.youtube.com/watch?v=lajEptHUxD0