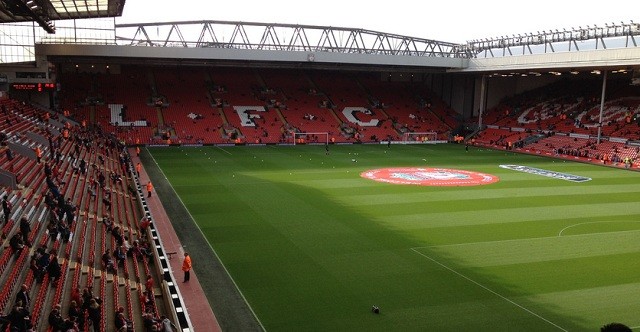 It was a tough loss for Brendan Rodgers and Liverpool against Chelsea. An extra-time goal off a set piece was a crushing blow to the already tired squad. However, the team should be encouraged by the fact that they were able to hold their own against the Premier League leaders.
They should keep up the momentum this weekend against the team just ahead of them in the League, in West Ham United. Although he is unlikely to change the team for this match, Rodgers should keep in his mind that the team does have a rematch against Bolton on Tuesday after their 0-0 draw the last time out.
Goalkeeper
Simon Mignolet was tremendous against Chelsea, he has really improved his form over the past few matches and it looks like he has established himself as the undisputed first choice 'keeper for the rest of the season.
However, he will be facing another strong offense in West Ham, albeit on that excels in the air. With former Liverpool players Andy Carroll, Stewart Downing and leading scorer Diafra Sakho, the Hammers attack is perfectly capable of breaking through Mignolet and his defense.  
Center Backs
Emre Can, performed admirably against Chelsea and he was able to more or less hold his own against Eden Hazard. Martin Skrtel battled against Diego Costa very well and he kept up physically with the bruising Spaniard.
Dejan Lovren is the most likely candidate to replace the injured Mamadou Sakho since he is a natural center back as well as being left-footed. All three are going to have to watch out for the West Ham set pieces since the team excels at taking advantage of the height of its players.
Right Midfield
Lazar Markovic struggled to get into the game against Chelsea but he should be able to play well against arguably the weakest member of the West Ham in Aaron Cresswell. He has found his place on the team out on the right wing and he looks like a first team players for years to come.
Center Midfield
Against Chelsea, Jordan Henderson, as usual, played with a great deal of energy but was unable to put it all together to produce a moment of brilliance.
He will have to be at his best this weekend since he and Lucas Leiva are likely to be outnumbered in the middle of the field. Leiva's main job against West Ham will be to stem the creativity of their assist leader in Downing.
Left Midfield
Alberto Moreno played really well against the Blues and he has put himself in Rodgers good graces. He will likely have some space to work against the Hammers since their right back, Carl Jenkinson, tends to bomb forward to hit crosses into the box.
Even though he must make sure that he does not slack on his defensive duties, Moreno should look for opportunities to show his offensive prowess.
Forwards
Adam Lallana, could make his return to the lineup if Rodgers decides to rest Steven Gerrard. Lallana's activity could allow him to find holes in the opposing defense. Raheem Sterling could not create chances for himself on Tuesday but hopefully he will have a better match this weekend.
Philippe Coutinho was magnificent upfront and was often the most creative player on Liverpool. However, his finishing let him down yet again. He could find himself without much space this weekend with players such as Alex Song patrolling the front of the defense.
(3-4-3)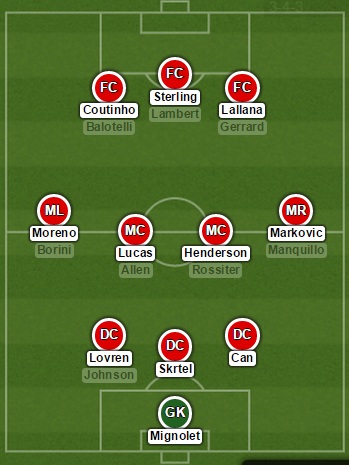 Via – Lineup Builder