Chelsea will play host as the two foremost Premier League title contenders meet for the second and final time this season on Saturday (12:30 PM EST). The first contest ended as a draw after former Chelsea legend, Frank Lampard, equalized late on for Manchester City. A similar result would suit Chelsea well as they currently sit five points ahead of City atop the table.
Much of the talk leading up to Saturday's match surrounds the players who may be unavailable for Saturday. The Blues are dealing with fitness issues for both Cesc Fabregas and Filipe Luis, who both left Tuesday's Capital One Cup victory over Liverpool with muscle problems.
"Filipe Luis came off with a calf problem and Fabregas reported a tight hamstring," Chelsea manager, Jose Mourinho reported after Tuesday's match. "Fabregas said he wasn't yet injured but that he would be soon if he continued."
Fabregas may have been subbed at just the right as he was able to resume light training on Thursday and is yet to be ruled out of Saturday's crucial clash.
Branislav Ivanovic is another player to have come out of Tuesday's battle worse off. The Serbian finished the match with a blood soaked boot before receiving treatment post match. A feat that would have impressed even Curt Schilling.
"Ivanovic's boot should be put in the lobby of the Academy, so the kids can see a boot completely full of blood," stated the Chelsea boss. "His foot with the big cut and lots of stitches cannot go there, but the boot, which is white, is full of red blood and should go to the Academy."
To add to Mourinho's selection worries, Diego Costa was retrospectively charged with violent conduct on Wednesday after a stamp on the ankle of Liverpool's Emre Can went unnoticed by referee Michael Oliver. Costa, who some would argue got away with a second impressionable step on Martin Skrtel in that same game, is facing a three-match ban. His case will be heard Friday afternoon with the likelihood that the ban will be upheld.
Mourinho has defended his player stating Costa's actions were 'absolutely accidental' and has, seemingly in protest of the FA, cancelled his pre-match press conference scheduled for Friday. Mourinho was the subject of a £25,000 fine this week after again stating there is a 'campaign' by other teams and officials against Chelsea.
Manchester City have selection issues of their own after Ivory Coast's triumph over Cameroon denies them the early return of Yaya Toure and recent signing Wilfried Bony. The pair have been at the African Cup of Nations since January 10th. Toure is a massive loss for City, who have not won a league game without him since last April. During the midfielders most recent absence, City have drew with Everton and lost to Arsenal in the league and were eliminated by Middlesbrough in the FA Cup.
Mourinho, a true pragmatist, will understand that without Toure, City's inconsistent backline is even more exposed to the counter attack. Chelsea, as they often do in big matches under Mourinho, tend to sit back and strategically break forward throughout the game.
After a few shaky defensive performances, The Blues proved against Liverpool that they are more than capable of inviting pressure and holding firm for ninety plus minutes. Though we have become used to a more expansive style of play from the London club this season, Mourinho knows anything aside from a loss keeps Chelsea in the drivers seat and will be more than content with a forceful defensive display.
Goalkeeper
Thibault Courtois was the most impressive performer over the two legs of the Capital One Cup semi-final. The young keeper made nine saves, many from close range, while allowing just one past. Liverpool manager, Brendan Rodgers, was not the only one who attributed Chelsea's progression to Courtois.
Defense
If Chelsea have a weakness, it appears to be in defense. Twice this month they have allowed a team to score at least four goals. Unprecedented for a Jose Mourinho side. Last weekend League One side, Bradford, shipped four past Chelsea enroute to a comfortable victory. It was Chelsea's first home loss to lower league opposition in nearly 60 years.
An ashamed Mourinho was quick to make changes to his backline. Kurt Zouma retained his place, while John Terry, Ivanovic and Luis were reinserted. The fact that the 20-year-old Zouma kept his place at the expense of Gary Cahill speaks volumes. Another mature performance against Liverpool gives Mourinho no reason to drop him. With Luis likely out look for Cesar Azpilicueta to come in at leftback. This move suits Chelsea's more defensive approach against top opposition.
Midfield
The presence of Nemanja Matic cannot be understated. With each game, the Serbian slides further into the shoes once filled by the great Claude Makelele. Matic's defensive ability not only provides comfort to the back four but also allows the likes of Cesc Fabregas, Oscar, Willian and Eden Hazard to parade forward. Matic often acts as Chelsea's deepest lying playmaker and has the ability joins his midfield marauders in attack.
With Fabregas nursing a hamstring injury, it is possible Mourinho could opt for Ramires to play alongside Matic. The Brazilian has recently returned to full fitness and replaced Fabregas on Tuesday. He was also Mourinho's choice to start in the center of midfield against City the first time around. Ramires lacks the passing quality of Fabregas but offers more covering presence. He also has the capability of covering about 50 yards of space in two seconds.
Eden Hazard's play has elevated the seasons to the point where he is consistently being talked about as the heir to the Messi/Ronaldo held throne. With the ball at his feet Hazard is as impressive as anyone in the world, but he still lacks that decisiveness from outside the box.
Willian is the player whose starting spot could be in doubt after reports announced Chelsea have a agreed to sign Juan Cuadrado from Fiorentina. The deal is set to take place in the next 48 hours. Mourinho prefers Willian to Andre Schurrle on the wing, though the Brazilian's performances have been far from star making. Yet, he continues to occupy the space on the right for Chelsea.
Striker
Let's assume Costa's charge is upheld. This is a massive blow for Chelsea. Costa has scored 10 goals in 9 home games and leads the Premier League. Furthermore, his possible replacements have only started a combined five matches.
It is expected Drogba gets the start in Costa's stead. The 36-year-old has lost some pace over the years but has proved his hold up play is still as good as they come. This could be crucial to Chelsea if they set up in a defensive manner. Drogba will need to be the outlet and maintain possession long enough to spring the likes of Hazard and Oscar forward.
There is no doubt that Mourinho puts great trust in Drogba, and the Ivorian has already come good on a number of occasions this season, most notably against Manchester United and Shrewsbury in the League Cup. Drogba may be just the type of player with the pedigree to inspire a relatively new group of Chelsea players to glory.
(4-5-1)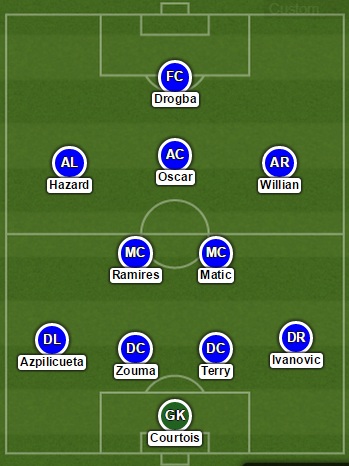 Via – Lineup Builder