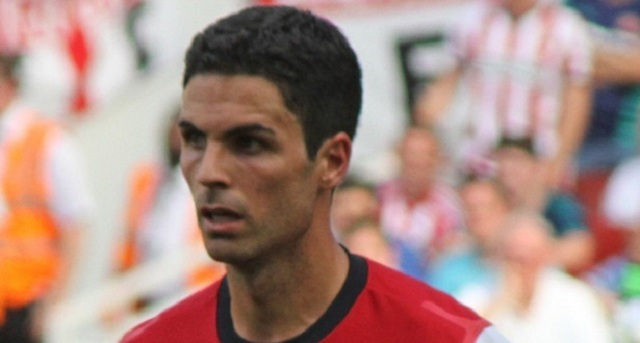 Arsenal have extended the contracts of two key players, both key for polar opposite reasons. Both Joel Campbell, one for the future, and Mikel Arteta, an experienced leader, have signed extensions to their current contracts.
Campbell signed an extension before agreeing to go on loan to Villarreal. His previous deal ended in the summer of 2016, it's not clear how long his new deal is for.
This is an interesting move by Arsene Wenger because it means two things. First Wenger does see potential in Campbell and still believes that he can contribute in the future. It seemed that wasn't the case when Campbell was sent out online earlier in the week. But it could also mean that Arsenal are looking to sell the Costa Rican international in the summer, and, with a longer contract, Arsenal have a stronger bargaining position.
It's clear that Campbell is a talented player with potential, but potential is the key word here. He has done well in the little appearances he has made this season, but he hasn't shown anything special either. He had a decent World Cup, where in truth he had one good game and then World Cup hysteria followed him throughout the summer like it does for so many players during the World Cup.
I believe that Wenger does see potential in him and wants him to prove that again next summer, however Campbell won't get his chance this campaign, especially with Theo Walcott and Mesut Ozil returning from injury, hence the loan agreement. At the end of the day though, it seems more likely that Arsenal sell Campbell next summer, and this was simply a way to strengthen their negotiating position.
It's been confirmed that Arteta had signed an extension weeks ago by his agent, but it had never been announced. This seems to be because of Arteta's recent injury issues so the timing would have been poor for Arsenal. Arteta's previous deal would have run out this summer and the new deal he signed, expires next summer.
This extension makes sense as he is a capable player, with good leadership skills, and is an excellent role model of how to be a professional for Arsenal's young squad. The one worry though is that age is catching up to Arteta and his body is seems to have started fail him. He is 33, an age where players typically start to slow down physically, but if he can learn to adapt to his body catching up to his age, he could use his high footballing IQ and still make regular contributions. Players like Tomas Rosicky, Frank Lampard, and Andrea Pirlo spring to mind as examples of players doing just this.
This deal is low risk for Arsenal as it is a 1-year extension, which is typical due to their policy of offering 1-year deals on a season-to-season basis for players over the age of 30. Wenger did this with Dennis Bergkamp for years, a player who contributed to Arsenal consistently and in high quality, until the day he retired.
Having a player in your squad, whose career is starting to expire, is not a bad thing. Such a player can guide the squad, can be a voice on the training field, be a voice in the changing room, and can be a confidant and a lieutenant, so to speak, for a manager. Sir Alex Ferguson mastered the use of such players with the likes of Paul Scholes and Ryan Giggs staying and contributing with Manchester United well into their late 30's, as key members of the first team.