In a weekend filled with FA Cup surprises, no result was more shocking than Chelsea's 4-2 loss to League One side Bradford City. Even when resting a handful of Premier League regulars the Chelsea 'b team' boasts talent more than capable of beating a side 49 places below them in the English league system. However, a second half defensive collapse saw The Blues bow out in spectacular fashion.
"I know that in the history of this competition this happens to every team now and again," Said Chelsea manager Jose Mourinho post-match. "For me it is the first time, for Chelsea it doesn't happen a lot, and it is unacceptable to lose against a team from a lower league."
Despite resting Thibault Courtois, John Terry, Branislav Ivanovic, Nemanja Matic, and Diego Costa (Eden Hazard and Cesc Fabregas made substitute appearances), Mourinho believes his team should have been ready to triumph over a lower league side.
"The only player who comes from youth football, Andreas Christensen, did his job very well and we didn't lose because of him. The other players are ones who have to be ready to play for Chelsea, they have to be ready to play any game. If they can't play against a team from the Championship or League One or League Two, what do we do?"
The team has to be quick to put the embarrassing result behind them and focus on the week ahead. Before facing title rivals Manchester City on Saturday, Chelsea welcomes Liverpool to Stamford Bridge in the second leg of the Capital One Cup semi-final (Tuesday 2:45 PM EST).
Liverpool fared only slightly better in their FA Cup matchup, a nil all draw with Championship side Bolton. Rather than lamenting his team's performance manager, Brendan Rodgers went after referee Kevin Friend. The manager must now turn his focus towards the Capital One Cup.
Mourinho has never had much success against Liverpool when it comes to cup semi-finals. On three previous occasions, twice in the Champions League and Once in the FA Cup, Mourinho has been eliminated by Liverpool. There can be no question Mourinho was aware of that before choosing to rest so many of his stars prior to the game on Tuesday.
Chelsea will be confident they can get the job done at home, despite struggling in the first leg at Anfield. After taking the lead through a first-half penalty from Eden Hazard, The Blues struggled to get into the game and were under pressure for the entirety of the second half. Liverpool controlled the possession and had 19 shots compared to Chelsea's 2. Despite all of the chances they created Liverpool only found the back of the net once, through Raheem Sterling.
Prior to the match, Rodgers stated that if need be his team could go to Stamford Bridge and win, something that has proved near impossible during Mourinho's tenure. Chelsea's loss to Sunderland last season was their first league home loss with Mourinho in charge (77 matches). However, Liverpool can take confidence from the way they performed against The Blues last week even if they did only manage a draw.
With the away goal, Chelsea have the slight advantage. Unlike other competitions away goals only matter if the teams are level after extra time in the second leg. That is, if the game finishes 0-0 extra time will be had despite Chelsea's away goal. If the score remains 0-0 away extra time then the away goal comes into play and Chelsea advance.
Mourinho will have a full squad to select from and no two players will be more important to Chelsea's success than Terry and Matic, the backbone of Chelsea's defense. Terry, now 34-years-old, remains Chelsea's best defender as well as their spiritual leader on the pitch as he has been for the last eleven years.
Matic is perhaps Chelsea's most important player. In 35 matches in all competitions Chelsea have only lost twice. The commonality: Matic did not play. Not since the prime of Michael Essien's career have Chelsea had a midfielder player that is tenacious and decisive in defense and equally as capable of starting the attack. Despite only being at the club since last January (He played twice for the club as a teenager before being sold in 2011), the Serbian has made himself indispensible. He is, for lack of a better term, the glue that holds Chelsea together.
His Liverpool counterpart, Lucas Leiva, is arguably equally as important to Liverpool. In the last 16 matches they've only lost once, the only match in which Lucas did not feature. Matic's ability to prevent Lucas from controlling the play will be crucial in Chelsea's bid to advance to the final.
In the first leg Mourinho opted for a defensive lineup, placing John Obi Mikel next to Matic. This time around it is likely we will see Fabregas return to his deep lying role with Mikel moving to the bench. Eden Hazard, Oscar and Willian are likely to take up their usual positions as the attacking three in Chelsea's five man midfield.
Diego Costa is poised to return to the lineup after being rested against Bradford. Costa who is the Premier League's leading goal scorer has one goal in two previous games against Liverpool. His impact was muted last week with Martin Skrtel on his back the entire match. In his short career in England, Costa has enumerated quite a list of enemies, of which Skrtel is at the top.
The question remains whether or not Costa can squabble with Skrtel while still remaining effective over the course of an entire game. One criticism on Costa is that while he can entice defenders into making mistakes, he occasionally engages in too many extra-circulars and is himself distracted from the play.
After a poor performance in one cup competition, Chelsea will do everything they can to rebound in another all the while eliminating a team that has gotten the best of them in the past elimination encounters.
(4-5-1)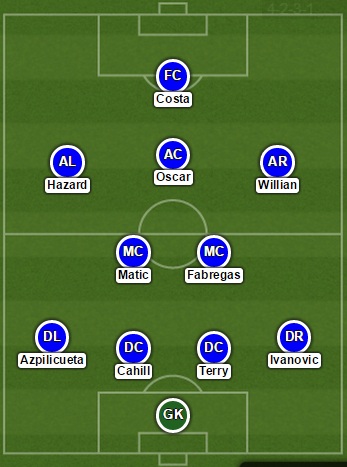 Via – Lineup Builder