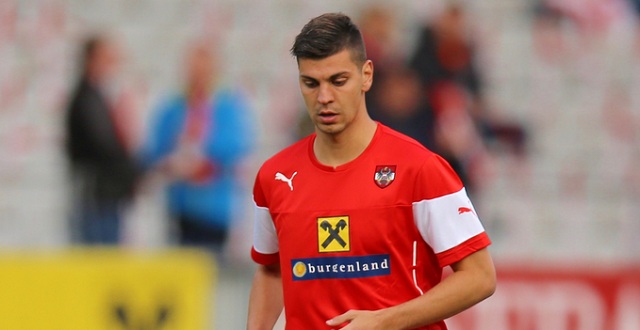 As the days go by, it is becoming evident that Dynamo Kiev's centre back Aleksandar Dragovic will be joining Manchester United during the last week of the winter transfer window.
According to recent reports from several respectable media sources, the Red Devils have already established contacts with the Ukrainian powerhouses in order to grant the services of the talented Austrian defender already in January.
Manchester United are expecting to convince Dynamo with an offer of approximately £15 million after the historical Ukrainian team has reportedly refused several offers from European top teams, including a £10 million bid from their Russian neighbours, Zenit St. Petersburg.
After the rumour of Aleksandar Dragovic's transfer to United came to surface, it went almost viral in the social media. It was discovered that the player himself has started following several United's footballers on Twitter and that his National Team companion, Rubin Okotie, has wished him all the best on the new chapter that is about to start on his still young career.
After years of absolute dominance during and after the Soviet era, Dynamo Kiev found themselves on a less impressive position, as Shakhtar Donetsk emerged from ashes and begun their dominance over Ukrainian football.
Nevertheless, this season things started to change with the arrival of former Tottenham's and West Ham's deep lying forward Serhiy Rebrov to the helm of the team. Dynamo are the current league leaders and are still undefeated after 14 matches.
Rebrov, who is probably putting into practice the things he has learned with the true football master Valeriy Lobanovskiy during his footballer days, has been slowly restoring the team's lost dignity and United's transfer target Aleksandar Dragovic is providing a fairly important contribution to that extent.
At the age of 23, Dragovic is already a top class centre back. The Vienna born footballer started his career at the Austrian powerhouses of Austria Wien but in 2011 he joined FC Basel. His move to the Swiss champions was decisive for his development but he retributed with some solid performances that helped the team reach the UEFA Europa League semi-finals.
In July 2013, Dragovic changed venues once again and signed a fairly profitable deal with the Eastern football giants of Dynamo Kiev.
The Serbian descent footballer is a sort of old school Eastern European typical defender, with above-average technique and passing skills, capable of acting as a ball playing defender or even as a sweeper or anchor man if necessary.
Dragovic is a fairly intelligent defender "blessed" with remarkable positioning, marking and heading skills and an enormous margin for progression, something that he might easily achieve by moving to Manchester United and to one of the best football leagues in the World.
This being said, it is obvious that Dragovic would be a perfect fit for United's defence line as it is currently being designed by Louis Van Gaal and he would certainly bring the stability the team sometimes lack on that particular area of the pitch.
https://www.youtube.com/watch?v=uIlVGF4VXxQ