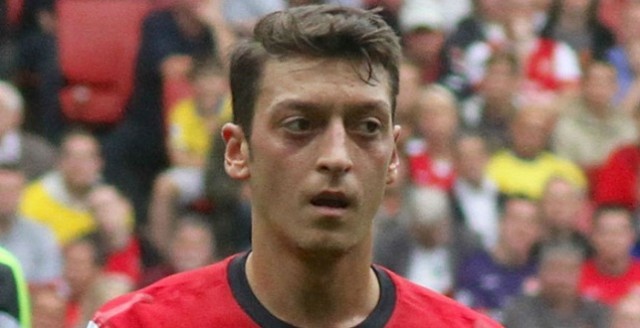 Arsenal will look to continue their defense of the FA Cup and avoid an upset away against Brighton.
The FA Cup is famous for its unpredictability, which adds the beauty and allure of the oldest domestic competition in the world. Yesterday Chelsea, Tottenham, Manchester City, and Southampton all were knocked out, Chelsea and City to lower league teams. While Liverpool and Manchester United both drew to lower league teams, meaning they play a replay match later in the week
Arsene Wenger has enjoyed the FA Cup, having won this competition the most out of any competition he has competed in, in the footballing world. Therefore he will certainly not take this match lightly, as this is a competition that he and the players want to win.
Arsenal will certainly not take Brighton for granted, although we will see Wenger rotate quite a bit, albeit with players who are top quality and are just returning to fitness.
Here is Arsenal's probable starting lineup:
Goalkeeper – Szczesny
It's likely we will see a return to the lineup for Wojciech Szczesny however its unclear what this means. It could mean that Szczesny is now the considered the "cup goalie" where he will only appear in the FA Cup and possibly the Champions League, while David Ospina play during Premier League matches. Or, it could be a genuine opportunity for Szczesny to reclaim his place in the starting lineup.
Right Back – Chambers
Calum Chambers will make a return to the starting lineup with Hector Bellerin out with an injury. It's clear that Bellerin is ahead of Chambers at this position, and right now seems to be Arsenal's starting right back of the future.
That leaves the question of where Chambers' position lays? Right now it seems it will be central. He played well at center back earlier in the year, but I believe that he will be a future defensive midfielder. He looks assured on the ball and seeks it out. Wenger has made it clear that he sees Chambers in that position as well.
Center Back's – Mertesacker & Koscielny
Unfortunately Laurent Koscielny won't be afforded a rest, due to Bellerin's injury, Chamber's would have most likely played here otherwise.
It's possible that Nacho Monreal starts here in place of Koscielny, allowing Koscielny to rest his Achilles. It's more likely that Wenger goes for experience and stability here though, he doesn't want to risk too much in this match.
Left Back – Gibbs
Kieran Gibbs should make a return to the starting lineup after being injured and losing his place to the impressive Monreal. In fairness to both players, there isn't much of a quality drop-off between the two.
Defensive Midfield – Coquelin
Francis Coquelin will be a key figure in this match, as normally matches against lower league teams are physical. Coquelin needs to show he is capable of doing what he did against Manchester City, game in and game out. Against a team like Brighton, Coquelin will be especially useful.
Central Midfield – Flamini
Mathieu Flamini will add to the physicality needed in midfield. Seeing as the match will be played at Brighton, Brighton will play with more confidence and a sense of adventure. Flamini and Coquelin will be key to snuffing this out of Brighton and ensuring that Arsenal has a hold in midfield.
Attacking Midfield – Özil
Mesut Özil will make a return to the starting lineup, and it will be in his best and favored position.
Özil bulked up while he was out injured and this could serve him well in this match. Brighton will look to play him off the field, and Özil's ability to fend off physical play against him, will be key to how influential he will be on this match.
This also always Santi Cazorla to get a deserved rest. Cazorla will most likely feature on the bench though; especially because it's unlikely Özil is ready for a full 90-minute match.
Attacking Right – Walcott
Theo Walcott will make his second start of the season, and his second start in the FA Cup this year. Walcott and Özil should benefit from each other, something that we haven't been able to see in a full year, as both of been injured while the other is healthy.
This could be a difficult afternoon for Walcott as Brighton will most likely look to play deep against him, preventing, or at least limiting, his ability to make runs behind the back four. It will be up to Özil to pick him out.
Attacking Left – Alexis
It's hard to imagine Alexis Sanchez not playing this match; actually it's hard to imagine him not playing any match.
He has had a full weeks rest since his last match, which has seemed to be enough for him to recover without any repercussions.
It's tempting to believe that Tomas Rosicky plays in this match, and it's very possible that he does. However, Alexis can match the physicality needed in a match like this and he would provide Arsenal with an X-factor, a player who can score out of nothing. This will be something they may need in a match that could be very tight.
Striker – Giroud
With Danny Welbeck still out with an injury, Olivier Giroud is again Arsenal's only healthy striker. This shouldn't have an affect on him though, because, like Alexis, he has had a full week to rest and hasn't shown signs of jadedness the past couple matches.
(4-5-1)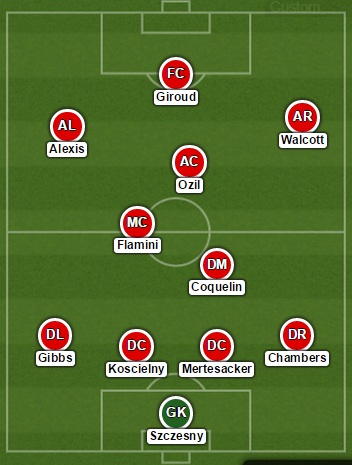 Via – Lineup Builder