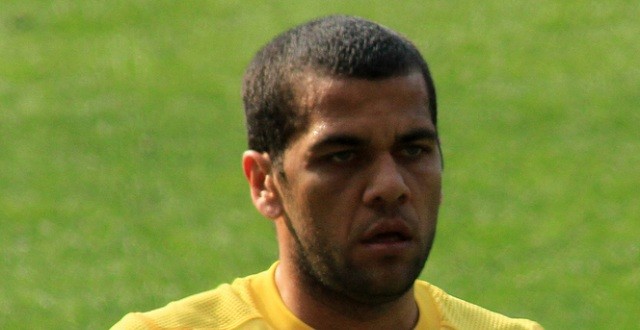 It is common knowledge that the weakest link in Manchester United's current team is their defence line. For that reason, Louis Van Gaal keeps considering several options to bring in quality and experienced players in order to mitigate such frailties as soon as possible.
After being told that Valencia's centre back Nicolás Otamendi is not for sale, the Dutch manager has allegedly turned his attention to both his fellow countryman Bruno Martins Indi and Barcelona's Brazilian right back Dani Alves.
Recent reports from the Express are suggesting that the flamboyant Brazilian defender is on the top of Van Gaal's short list to strengthen United's defence line next summer.
Dani Alves' contract with Barcelona will expire in just six months and it is not likely that the Catalan team will be offering a new deal. The Brazilian defender has reportedly been placed in the transfer list early this season since Barça's new manager, the strong willed Asturian Luis Enrique, has told the board that Dani Alves was not part of his plans for the 2014-15 campaign.
Nevertheless, for some reason, the former Spanish international reconsidered his options and offered Alves an opportunity in his reshaped Barcelona team. The Brazilian right back has allegedly declined to leave on loan or even to be transferred last summer, as he stated that he wanted to stay at Catalunya until his contract expires.
The former Sevilla player was recently involved in an "incident" that could have opened the door to leave Barcelona for good. Dani Alves was relegated to a bench warmer condition, together with Messi and Neymar, during Barça's sour defeat against David Moyes' Real Sociedad earlier this month and he was quite amused and apparently in a very good mood when Jordi Alba netted in an own goal, which was enough to inflict the third defeat of the season to the Catalan team.
Alves has been part of Barcelona's setup since 2008 and has played more than 200 matches for the Catalan team, scoring more than his fair share of goals. The 31-year old footballer is a fairly versatile defender, as he can assume several roles on the right side of the pitch, playing as a simple right back or as an attacking driven wing back, something that Louis Van Gaal clearly appreciates.
Dani Alves would be an almost perfect fit in the new style the Dutch manager is still trying to (successfully) implement at Manchester United and his high international experience would also certainly bring some advantage to a team that clearly needs more consistency back in the defence.
Alves is probably not the most hard working and committed player out there, but it is truly undeniable that he could bring in some extra value to United's right wing, especially if we consider he could arrive for free next summer.