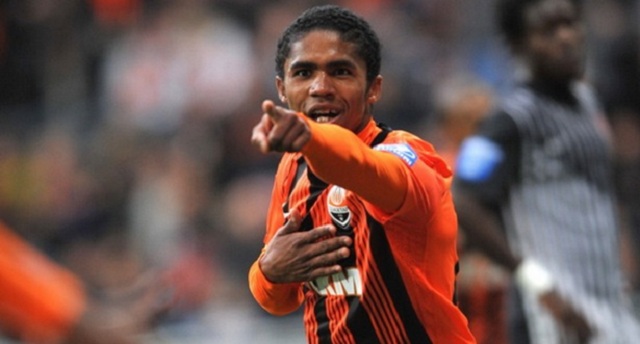 It appears that Chelsea are looking to add to their midfield before the end of the month in an attempt to strengthen their options on the wing before making a push to secure their first Premier League title since 2010.
Speculation in the last twenty-four hours has increased with reports suggesting that Fiorentina have accepted a 23 million pound bid for winger Juan Cuadrado. Though these reports have yet to be confirmed by either club.
Cuadrado was the standout player alongside James Rodriguez during Colombia's World Cup run last summer. The 26-year-old has increased his goal total steadily over the last three years, ending with a career high 11 league goals last season. A speedy midfielder with a knack for goals and the ability to track back makes him a perfect fit for Chelsea manager, Jose Mourinho's style of play.
Shakhtar Donetsk attacking midfielder Douglas Costa's name has also been thrown into the mix after the Brazilian told Globo Esporte: "It's a dream to play at Chelsea, a unique chance. I will try to negotiate."
For the last year, Donetsk, a city in Eastern Ukraine, has been the site of civil unrest including several violent battles between the Ukrainian military and pro-Russian separatist rebels. The state of unrest has prompted speculation that many of their star players could leave the club in the coming months.
Costa, a talented player in his own right, is hardly what Chelsea need at the moment. The squad's biggest weakness is goals from midfielder and Costa is not that type of player. More of a creator, the 24-year-old has never scored more than seven goals in a season for Donetsk in his nearly 6 years at the club.
A deal for either player would be contingent upon the sale of either Mohamed Salah or Andre Schurrle. However, Mourinho insists Chelsea do not have plans to buy this January and Salah and Schurrle are integral to the team's success.
"The window is open, but what I can say is I like them, I need them and I trust them," he said. "I cannot select the same 18 players every game — I only can play 11. Salah is not playing a lot, Schurrle more than him. They are players that play for us in every competition. Even in the Champions League. I count on them."
Mourinho, however, did make similar comments about Juan Mata and David Luiz just weeks before they were sold. Furthermore, reports this evening are suggest Salah is on his way to Roma, freeing up a move for Costa or Cuadrado, with the latter being preferred.
https://www.youtube.com/watch?v=wU0RkscGHsw