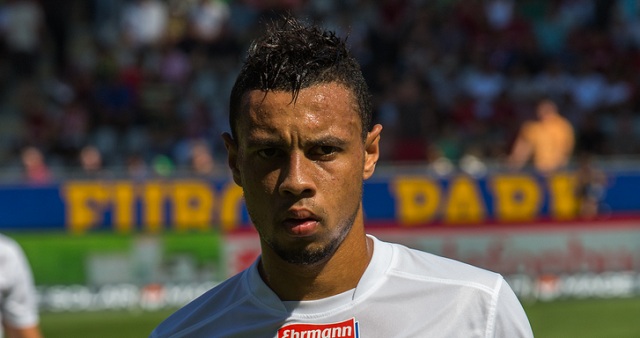 According to the Guardian, Arsenal have offered Francis Coquelin a new 3 year contract, rewarding the young Frenchman's sensational, and pleasantly surprising form.
Coquelin was called back from his loan with Championship club Charlton Athletic, after Arsenal's injury crisis had reached new depths in midfield. He took his chance exceptionally, having yet to put in a poor shift in his 5 straight appearances this month.
Arsene Wenger brought Coquelin to Arsenal in 2008 as a 16 year old, something he has done with many players at Arsenal. He spent yearlong loans with Freiburg and Lorient and was a fringe first team player in season's past with Arsenal; most of his appearances came in the League Cup or as an emergency right back. None of these previous appearances or loans indicated that Coquelin was the player that we have been witnessing. How things have changed.
His performance against Manchester City over the weekend showed exactly what kind of player Arsenal has been missing in midfield. He showed intelligence by knowing and playing his role has a holding midfielder to perfection. He did not do more than his role asks for, which is exactly what Arsenal need, they already have enough players in midfield who attack first and defend second. Time after time he intercepted, headed away, and disrupted, City attack after attack.
He was vocal with his teammates, many of who are established first team players both with club and country. He established order in midfield and dictated the flow of the game with his simple and intelligent passing, passing that was not incisive like Santi Cazorla or Mesut Özil, but was safe, assured, and confident, dictating the tempo and making sure that Arsenal kept possession. Arsenal hasn't seen a player control the midfield in such a manner since Alex Song did at times, but you could argue that Coquelin has done it better.
Now Coquelin needs to keep up this form and prove that he belongs at a club like Arsenal. You have to remember that he is still only 23 and it's very possible that he learned much from playing in lower leagues and at smaller clubs. He certainly is showing trademarks of a player who understand the value of physically overpowering your opponent when you lack the technical ability to do so otherwise.
Its conceivable to think that Coquelin is the player that Arsenal need and fans have clamored for in the defensive midfield department and its very likely that Wenger doesn't invest in a defensive midfielder. Coquelin certainly deserves the continued starts. Certainly an in house solution to the defensive midfield problem is a better solution than paying an exuberant amount of money for a player who might not be the solution, and is most likely over valued, for example William Carvalho or Ilkay Gundogan who prefers attacking over defending anyways.
After reading that, I'm sure most Gooners will be opposed to such a statement, but it's the most rational avenue for Wenger to take in solving Arsenal's need at defensive midfield, and if you think about it from an Arsenal point of view, it makes sense. Arsenal are not a club like Real Madrid or Barcelona or Chelsea and Man City who can afford to spend too much money on players in every position, nor do that want to operate in such a way. It is admirable and Gooners should take pride in the way that Arsenal is run.
The only way to prove those doubters and naysayers wrong is for Coquelin to prove that he belongs, and keep doing what he has been doing.