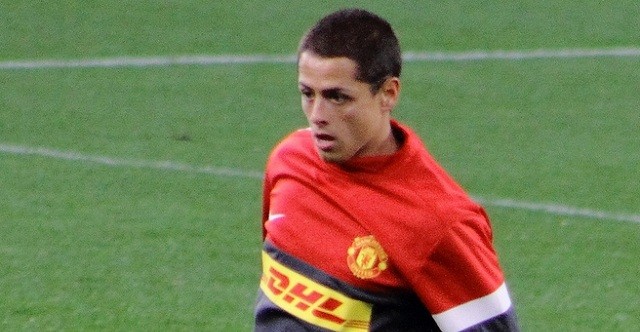 When Javier Hernández, also known as Chicharito, heard that Real Madrid were after him, he actually saw this as a unique opportunity. While we will never actually know how he was convinced to arrive at the Bernabéu, almost five months later, it seems like a story worth hearing. With his importance getting closer to 0%, it's fair to ask, does he regret the move?
Last season, Carlo Ancelotti had a second striker. La Fábrica's Álvaro Morata played 34 matches and scored 9 goals. The Spaniard gained prominence because of Benzema's irregular form and physical problems. However, at the end of the season, the youngster decided that playing the last 10-15 minutes of minor games wasn't enough and left.
The Italian coach started the 2014-15 pre-season without a substitute for Karim. After a summer full of rumors, including high-profile players, Florentino Pérez gave Carletto a discreet signing near the closing of the market. The transfer generated controversy and doubts, as the Mexican barely played at Manchester United the previous term.
The season didn't have such a bad start, as Little Pea was playing with more frequency. In addition, his ability to score goals in the low number of minutes played gave him a chance to prove his worth. Slowly, but surely things went downhill, especially with the gap between Copa del Rey matches and the pursuit of all the wins in Champions League. Currently he stands as one of the least utilized players in the squad.
Four goals in fourteen matches and a decent salary is the only thing Chicharito can take away from his time at Madrid. Nevertheless, the situation didn't have to get this awkward and complicated. First things first, why has Ancelotti always spoken well of Javier, but given him minimal participation? Also, why would the club bring in a player with a significant salary and not promote a youngster and save some cash?
All we can do is speculate, since only those involved know the absolute truth. The future doesn't look bright for the striker, since his United contract expires in June and he won't be renewed. On top of that, it's almost certain that Real won't use the clause to buy the player. We're four months away from the end of the season and a lot would need to happen for him to turn things around.
Unless Benzema and/or several players get injured, it doesn't seem Carletto will put the Mexican in the starting lineup. The lack of faith is inexplicable and it truly is a waste, since in some matches the squad could've used him. In the 2nd leg of the Atlético duel in Copa, the frequent crosses and balls sent to the box would have been ideal for him. While he won't be one to publicly say it, Hernández most likely does regret the move.
https://www.youtube.com/watch?v=fRX-JjbR6Gw