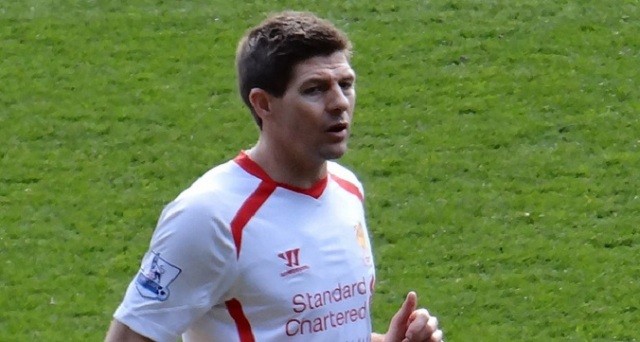 With a 2-0 away victory, Brendan Rodgers and Liverpool were able to keep the good times rolling against Aston Villa. The team now faces the Premier League leaders, Chelsea in the semi-final of the League Cup.
While Rodgers may decide to rest some of his more important players in preparation for the weekend match against Bolton, he will likely field a strong squad since the League Cup is the team's best chance of a trophy this season.
Goalkeeper
Simon Mignolet will be looking to build on the solid performance he had against Aston Villa, by trying to stop the flood of goals that Chelsea have scored this season.
He will have to be especially vigilant during set pieces since most of the Chelsea players are taller than the Liverpool players. Keeping track of both John Terry and Branislav Ivanovic during the set pieces will be essential in making sure the goal stays clean for Mignolet.
Center Backs
The three man defense of Emre Can, Martin Skrtel and Mamadou Sakho have become a mainstay in the squad ever since Rodgers moved to the 3-4-3, but this is the first time they will be tested against a very dangerous attack.
While stopping Diego Costa is important in trying to stifle the Blues offense, they also need to work with the midfield in order to stop the opponents from finding holes in the defense.
Right Midfield
While a better defensive player such as Javier Manquillo may be a safer choice for Rodgers, Lazar Markovic's ability to run with the ball may be one of Liverpool's best method in attacking the Chelsea defense.
The Serbian winger has recently found his place in the team and he should be motivated to have a good performance against a quality team in Chelsea.
Center Midfield
The midfield pairing of Jordan Henderson and Lucas Leiva are likely going to be tasked with attempting to prevent the Chelsea midfield from creating any chances for Costa.
Cesc Fabregas has a remarkable 15 assists already despite usually being positioned as a defensive midfielder while Eden Hazard has scored 8 goals this season, tied for the league lead among midfielders. Henderson will have to help Liverpool keep possession by keeping the ball moving and making the most of his incredible passing skills.
Left Midfield
With his ability to track back to the defense, Alberto Moreno would be a smart player for Rodgers to start. His speed will also be a weapon against a slower defender in Ivanovic, especially when Liverpool launches a counterattack.
Forwards
Since they are unlikely to get much help from the rest of the team, Steven Gerrard, Raheem Sterling and Philippe Coutinho are going to have to make the most out of the few opportunities they get.
While neither goal scorer from last week, Fabio Borini or Rickie Lambert are in this lineup, their lack of speed and creativity make them liabilities against a Chelsea defense that reads the game extremely well.
(3-4-3)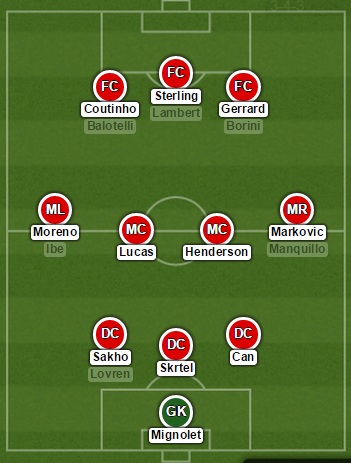 Via – Lineup Builder