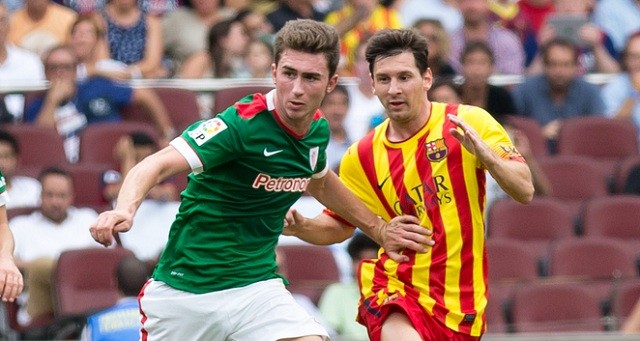 Manchester United have been reported to be closing on the signing of central defender Aymeric Laporte.
Laporte has been with Athletic Bilbao since 2012, and has now made 66 appearances for the La Liga side. The French back made his move to Spain in 2010, making his way up the Athletic Bilbao youth system before eventually making his first La Liga showing in December 2012.
Under Coach Ernesto Valverde, Laporte has prospered in the starting lineup, holding down the Athletic Bilbao defensive line. At only 20 years old, Laporte has represented France at the U-17, U-18, U-19, and U-21 tiers, even tallying goals at the U-17 and U-19 levels.
Laporte is also said to have been a proud fan of the Red Devils growing up, and is extremely excited to make the move to the Premier League. The signing is not looking to be cheap though, with Manchester United reportedly paying £25 million or more for the young center defender.
Regardless of his price tag, Van Gaal and the Red Devils will be keen on getting Laporte to Old Trafford as soon as possible. Manchester United has had strong showings throughout the season, showcasing their talent in the recent 2-0 victory over QPR, but have lacked the consistency in their back line that has been ravaged by injuries.
With other teams around the league bringing in new prospects, Laporte looks to be a strong signing for Van Gaal and Manchester United, giving their back line additional support and dependability.