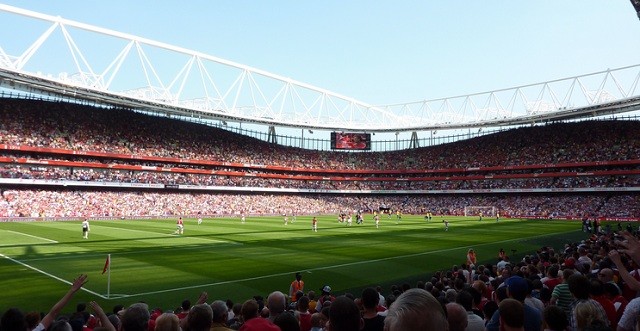 Arsenal proved to everyone that they should not be underestimated after putting a wonderfully gritty performance in their 2-0 victory away to Manchester City last night.
The display from the Gunners proved that they are capable of mixing resilience with their trademark flair and if they can maintain such performances till the end of the season, finishing in the top four will not be a problem whatsoever.
Despite the wonderful win though, Arsenal manager Arsene Wenger has demanded his side not to get carried away and the Frenchman is absolutely correct in saying so as the Premier League is an unpredictable competition.
Arsenal's win over City last night was a huge boost
The win against City should also not distract away from the fact that Arsenal still require strengthening in a couple of areas in their squad and a new defender remains of primary importance.
Therefore, a host of names have been linked with a move to Arsenal over the past few weeks or so and recently, Villarreal star Gabriel Paulista had emerged as a potential target for the Gunners.
To fuel speculation that Paulista could be on his way to the Emirates Stadium, the player himself had stated last week that he dreams of a move to the Premier League before adding that a transfer to Arsenal would be a welcome one.
Paulista states that his agent is in talks with Arsenal
Now, Paulista has moved on to once again talk up the possibility of him making a switch to Arsenal by revealing that his agent is working towards helping him earn a dream move to North London.
Paulista said, "Whether I go to Arsenal or stay at Villarreal, I won't lose my head. I'm very calm. My head is at Villarreal and I'm very focused. My agent is working on making sure I continue being calm."
Paulista has been one of the top performers in the La Liga this season and has played a vital role in Villarreal's brilliant campaign so far. Therefore, his addition will be a huge boost for Arsenal.
A price of around only £6million is said to be enough for Villarreal to convince them to sell the 24-year old but it is believed that the Spanish side are also hopeful of landing Joel Campbell on loan till the end of the season as part of the deal.