While most Premier League teams will spend their week resting and gearing up for the FA Cup, Chelsea and Liverpool will meet at Anfield for the first leg of the Capitol One Cup semi-final (Tuesday 2:45 PM EST).
Chelsea had arguably the easier path to the semi-final, having yet to face a Premier League side. Though The Blues have been far from convincing in their cup performances. After a 2-1 win against Bolton, Chelsea needed a late winner against Shrewsbury to advance before beating Derby last month.
Liverpool beat Championship side Bournemouth comfortable to set up the semi-final with Chelsea. However, they were lucky to be at that stage. Back in September Liverpool edged past Middlesbrough in an epic 15 round shootout. They also faced Premier League side Swansea en route to face Chelsea.
The teams have already faced off once this season, also at Anfield, in the Premier League where Chelsea won 2-1. Liverpool struck early through a deflected shot from distance by Emra Can. Gary Cahill restored parity before half time, after which Diego Costa sealed the three points. Liverpool will hope to avoid the same fate as they look to win their first trophy since winning this competition three seasons ago.
Much of the talk leading into the game has surrounded Steven Gerrard. The Liverpool captain has received plenty of abuse from the Chelsea fans following his infamous slip last March. Chelsea manager, Jose Mourinho, acknowledged the criticism this week and called for the fans to respect the legendary Gerrard.
"Gerrard is an historical player for Liverpool, an historical player for the Premier League, an opponent I always admired and respect," Mourinho said. "Our fans have a song (about him) that I don't like, I don't like it at all. Maybe a couple of times it's good fun, but to go on and go on, especially when a player like him deserves respect, I don't think we need that."
Mourinho praised Gerrard over his commitment [to Liverpool] and ability while also discussing his regret over not signing the midfielder during his time at Chelsea last decade.
"I was dreaming of a Chelsea midfield of Makelele, Lampard and Gerrard, playing in an open triangle without a No.10," The Chelsea boss stated. 'We were dreaming that – me, Mr Abramovich and Peter Kenyon (Chelsea's former chief executive) – and we did everything to try to make it happen. It was almost there. His people were open to it, and the feeling to join a top side like Chelsea at that time, but he never told me personally 'I will go'. Never, ever."
Mourinho will be hoping that his failure to lure Gerrard away from Liverpool doesn't comeback to hurt his team. Though Chelsea have gotten the better of Liverpool in recent times, it was not always that way. Mourinho still has bad memories of being eliminated from a Champions League semi-final back in 2005.
The teams are quite different with only Gerrard, John Terry, Didier Drogba and Petr Cech remaining for their respective clubs. In the years since 2005 Chelsea have been by far the more successful squad. Last season was the first since 2009 that Liverpool finished above the London based club.
Mourinho's team currently sits in first place, 17 points ahead of Liverpool in the Premier League. He has often used the Capital One Cup to give two or three players a rest and allow younger players to get some first team experience. However the changes employed are far from detrimental to the team's quest for silverware. While some teams choose to overhaul their entire squad for Cup games, Mourinho carefully inserts young players alongside his experienced leaders.
One of those young players who could make an appearance is defender Kurt Zouma. The 19-year-old Frenchman started in the 2-0 win against Newcastle a couple of weeks ago in place of Gary Cahill. This time around it is more likely Terry is rested seeing as he has started each of Chelsea's last 16 games.
Andre Schurrle is another player who could see a rare start. Schurrle came on in the 76th minute against Swansea, scoring just three minutes later. After a slow start to the season, Schurrle has three goals in his last seven appearances and is perhaps edging his way towards a more prominent role in the second half of the season.
Eden Hazard, Cesc Fabregas and Nemanja Matic are those among those players that Mourinho rarely leaves out. The trio, along with Cahill and Terry has started in 28 of Chelsea's 32 matches this season. Their performance against Swansea showed no sign of fatigue and they are likely to feature prominently against Liverpool on Tuesday.
Another player who could start is striker Didier Drogba. Now 36-years-old, Drogba still seems to fit in perfectly when Chelsea face off against the likes of Liverpool and Manchester United. There is something about playing those teams, which competed closely with Chelsea for titles in the mid 2000s that brings out a vintage performance from Drogba.
Chelsea also have Loic Remy available if Mourinho is to rest Diego Costa. Remy has played a small role since joining The Blues in the summer, due mostly in part to the play of Costa and Mourinho's preference for the experienced Drogba.
Mourinho will send out a very strong starting eleven with minimal changes as he looks to continue his recent dominance over Liverpool and their manager, a disciple of Mourinho, Brendan Rodgers. I predict a 2-0 win for Chelsea, giving them the advantage heading into the second leg next week.
 (4-5-1)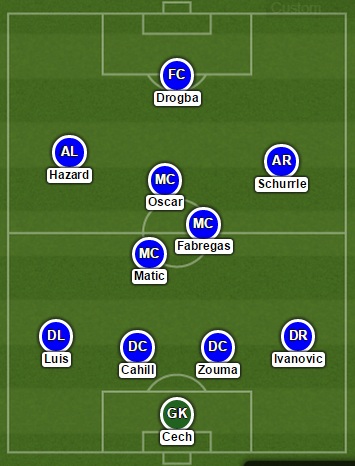 Via – Lineup Builder