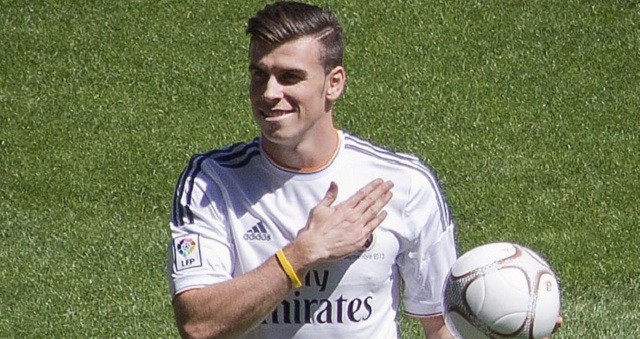 Manchester United are apparently ready for another shot in the dark as they are reportedly willing to put forward an outrageous offer to Real Madrid in order to bring the Welsh international Gareth Bale to Old Trafford next Summer.
According to several British media sources, the Red Devils are eager to offer the current European champions £50 million plus their Spanish young goalkeeper, David de Gea, in an attempt to convince Real Madrid to sell them the former Spurs' star.
Gareth Bale has been the target for some criticism from both the media and the supporters for apparently not justifying the amount of money Los Blancos spent on him. In a recent home match, Bale was heavily booed after opting for a solo effort instead of passing the ball to Cristiano Ronaldo who had accompanied him during a quick counter attack move.
It wasn't, however, the first time he received that kind of treatment from Real's supporters and, although Bale has stated that he was happy at Madrid, the media have started to speculate on his future at the current World and European champions.
The Welsh international is a splendid player and, although he probably does not have the influence and protagonism he used to enjoy while at White Hart Lane, it is unfair to say that he has failed to cause a big impact at Real Madrid, as some Spanish media have mentioned more than once.
Gareth Bale's quality is not a stake on this hypothetical deal between Manchester United and Real Madrid; what needs to be put into question is the fact that the Red Devils are willing to release one of their most (if not the most) influential players in order to convince Los Blancos to sell their Welsh star.
De Gea is currently the main foundation of United's team structure and the way he improved over the recent years is only within the reach of the very best, and, at the moment, the Spanish netminder is beyond any doubt among the top five goalkeepers playing at the Old Continent.
The arrival of the former Barcelona's goalie, Victor Valdés, this January might partly mitigate an eventual premature departure of the Madrid born goalkeeper, but it is not likely that he will be able to the quality level attained by David de Gea over the recent couple of seasons.
United already has several top quality players in their midfield line and they are even willing to allow the young Januzaj to leave on loan this January, thus, it is not by any means conceivable that a team would want exchange a top notch goalie that already nurtures a strong connection with the club (something not very easy to find these days) for an undoubtedly talented footballer, who, despite his staggering skills, will probably not be able to provide the necessary stability and balance United need in order to find their way back to success once again.
https://www.youtube.com/watch?v=Gt3sq7-keOk