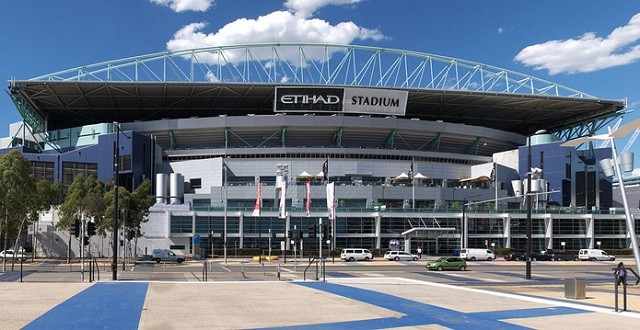 Arsenal will look to put away their away form debacles when they travel to the Etihad on Sunday. A good result against Manchester City could provide a building block for Arsenal, and help them drive up to a top four spot and stay there.
Arsenal looked assured, confident, and played like a well-oiled machine against Stoke City last weekend, a team that they struggled mightily against only a month ago. This could mean that Arsenal are started to click, thanks in large to the return of health for many starters and some consistency with their lineup.
There are three questions that Arsene Wenger will face this weekend's game. Does Hector Bellerin or Calum Chambers start at right back? Does David Ospina or Wojciech Szczesny start in goal? Does Francis Coquelin or Mathieu Flamini start at defensive midfield?
Here is Arsenal's probable starting line up:
Goalkeeper – Ospina
Ospina hasn't made any glaring mistakes so far, but at the same time he hasn't done anything that stands out particularly. Because of this Ospina stays in goal, until he gives a reason for Wenger not to play him or Szczesny shows an attitude change over the course of the next couple weeks.
Right Back – Bellerin
Bellerin was impressive against Stoke last weekend and Chambers has seemed to fallen out of favor with Wenger. It's clear that Wenger is riding the hot hand, not literally, at right back with Mathieu Debuchy out for three months. Right now, Bellerin is the more impressive youngster.
Center Back – Mertesacker & Koscielny
I expect a solid performance from this duo. Not much needs to be said about them. When they are playing together, they form a formidable partnership. Arsenal still needs another center back though.
Left Back – Monreal
Nacho Monreal has been in good form and Kieran Gibbs is recovering from an injury. Expect Monreal to start and Gibbs to be on the bench.
Defensive Mid – Coquelin
Like the right back position, Wenger seems to be riding the hot hand, and right now Coquelin is scorching. He has added aggression and tenacity to Arsenal's midfield. He isn't the big name that fans has been clamoring for at this position, and he isn't the greatest passer although he is good enough, he is absolutely getting the job done for Arsenal.
Central Midfield – Ramsey
Tomas Rosicky has looked phenomenal the past couple weeks and his lack of appearances earlier in the season is certainly questionable now. Having said that, Aaron Ramsey has just returned to fitness and had been showing signs of his form of last year.
I think that Wenger takes a gamble and gives Ramsey the start. If he doesn't do well, Rosicky is always an option off the bench, where he has made an impact from before.
Attacking Mid – Cazorla
Although Mesut Özil made his return last week after 3 months on the treatment table, this game comes too soon for him to make his first start since October. Santi Cazorla has been in phenomenal form this season and Özil will have to fight for a starting place in his favored number 10 position.
Wide Right – Oxlade Chamberlain
Another player he has played very well this season, especially the past two months. The Ox is absolutely the reason why Theo Walcott has only made 1 start since returning from injury.
Wide Left – Alexis
Alexis Sanchez will be key for Arsenal in this game. Very often in recent seasons, Arsenal has missed a player that takes them over the edge in games like this, with small individual moments. Very often that is the difference in these kinds of matches, and Alexis will need to provide that, not that he hasn't done all season.
Striker – Giroud
Danny Welbeck is still out with an injury and should be back next week, although it was hoped he would be back for this weekend. Olivier Giroud will retain his starting position this weekend.
With Yaya Sanogo out on loan for the season, Giroud is currently the only healthy pure striker on the squad.
 (4-5-1)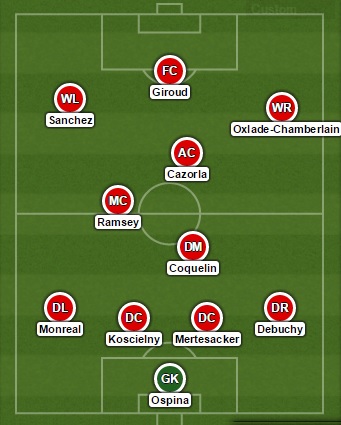 Via – Lineup Builder