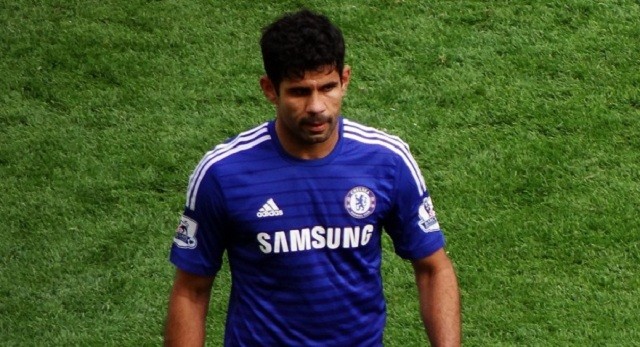 Chelsea beat Newcastle 2-0 last weekend, taking sole position atop the Premier League after Manchester City dropped points against Everton. This weekend (Saturday, 10 AM EST) Chelsea travel to Wales to face Swansea, a team they have never lost to in the Premier League.
The seven day lay-off has been Chelsea's longest period of rest since early November and will have come as a much needed break for the team whose starting eleven have played the most minutes in the Premier League. Aside from Cesar Azpilicueta (groin) and Thibault Courtois (finger), Chelsea's squad is fully fit heading into Saturday's fixture.
Manager, Jose Mourinho, will be keen to improve his side's away form after The Blues have managed just one win in their last four on the road. They will good chance to do so as they are facing a weakened Swansea side. Having just sold their leading goal scorer, Wilfried Bony, the Welsh side are also missing a number of key players through injury. Mainly the mercurial Jefferson Montero who terrorized Arsenal's defense last month, and Jonjo Shelvey who has settled nicely in Swansea's midfield after leaving Liverpool last year.
Chelsea will also take confidence from their early season performance against Swansea, which they won 4-2. In that game, Chelsea fell behind early but were able to regain parity just before half time. The Blues attacked in the second half, scoring twice in the first eleven minutes to secure the three points.
The change in tactics in the second half can be attributed partly to the introduction of Ramires. The Brazilian midfielder allowed Cesc Fabregas to push further forward and injected a pace into the game the was lacking in the first half. After spending much of the past three months of the sideline Ramires is back fully fit to face Swansea.
Swansea's strengths are in their midfield led by Gylfi Sigurdsson, who after the departure of Bony is their leading goalscorer as well as assist getter. Sigursdsson will be looking to get the speedy wingers, Leon Britton and Wayne Routledge in behind the Chelsea defense. If The Blues can manage to prevent Sigurdsson from controlling play in the midfield they will be on their way to a victory.
Goalkeeper
Thibault Courtois looks set to miss his second straight game with a finger injury meaning Petr Cech will get the start.
Cech made a number of crucial saves early in the game against Newcastle before his team were able to take the lead. Cech has not given up a goal is his two Premier League starts this season.
Defense
Chelsea boast the second best defense in the Premier League, though some shaky performances recently have led some pundits to call into question Mourinho's back four. The main argument was that after the first twenty games John Terry, Gary Cahill and Branislav Ivanovic had started every league game which was leading to fatigue.
Cahill was the scapegoat after his poor play was cause for a number of goals against Tottenham, though he was not solely to blame. Ivanovic and Terry were caught out of position numerous times by Spurs and Ivanovic particularly was caught up field far too often. Cahill was rested for the 19-year-old Kurt Zouma last weekend against Newcastle while the other two ever presents joined the youngster in keeping a clean sheet.
Azpilicueta was injured and subsequently removed from the game in favor of Felipe Luis. Luis has found it difficult to crack the starting eleven after making the move from Atletico Madrid in the summer but will now find himself in the starting role in the coming weeks.
Zouma was impressive in his first Premier League start, though it is likely Mourinho will go with the more experienced Cahill against Swansea. Mourinho knows however that if either of central defenders are below par, he has a formidable player, hungry for his chance waiting on the bench.
Midfield
There is hardly a question over who will start for Chelsea in midfield come Saturday. Nemanja Matic and Cesc Fabregas have been instrumental in controlling the pace of the game and possession for Chelsea. Matic leads the league in tackles won, while Fabregas is second to none in key passes.
A good number of those passes find Eden Hazard, whose form this season is among the best in Europe. Nevermind the goals and assists hey provides, his presence on the wing draws a number of defenders out of position and leaves space for Chelsea's attack to operate.
Oscar who started the campaign brightly has looked sluggish in recent weeks but put in his best performances in weeks against Newcastle. Often starting just behind the striker, Oscar strives when interchanging with Hazard and Fabregas. The constant movement and passing ability make the Brazilian a difficult mark for the opposition.
Willian seems to the be the least disliked among the remaining wingers and should start against Swansea. Andre Schurrle and Mohamed Salad continue to flounder when given time, leaving Mourinho no better option. However, with the return of Ramires to full strength, there may be changes in the coming weeks should Willian fail to perform.
Striker
Diego Costa scored a hat trick against Swansea the first time out and has hardly slowed down since. With three goals in his last four Premier League matches, Costa has made his way to the top of the scoring charts with 15. Not since Didier Drogba in his prime have Chelsea had such a reliable striker.
Drogba, now 36, has proven to be an important asset late in games where has scored a number of key goals. His hold up play, though, has been most important for Chelsea when killing off games late in the second half. Loic Remy has also proved a useful substitute and scored against Swansea in September.
(4-5-1)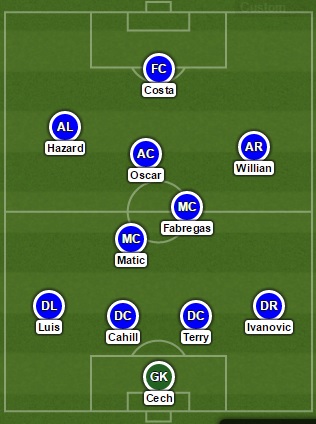 Via – Lineup Builder