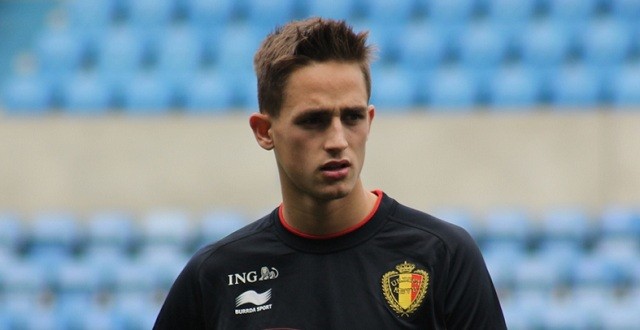 The young Belgian wonderboy that delighted Manchester United's supporters during a period of total dismay last season, might now already be on his way out of the club during the January transfer window. According to recent reports from several English media, Adnan Januzaj has already packed his bags to leave on loan to another English or European team until the end of the current season.
Reports are claiming that the Red Devils' boss, Louis Van Gaal, has informed the team's chief executive that Januzaj is not part of his plans for the rest of the season and that he would benefit from some first team playing time elsewhere. The young Belgian international has only taken part in 11 matches so far this season and his performances have definitely left something to be desired.
It is believed that Real Sociedad, Everton and Aston Villa have enquired Manchester United in order to understand if Januzaj was available for loan and they are still waiting for a definite answer from the Red Devils' officials.
Although a move to Spain may seem logical, as he would be able to work with his former manager, David Moyes, once again –  a move to Everton would probably be a better choice for the young Belgian wonderboy.
At the age of 19, it would certainly be difficult for him to have a go at a team such as Everton – which already has plenty of quality and experienced midfielders, due to fierce competition for a places in the starting line-up.
On the other hand, and despite the quality of Everton's midfielders, the Toffees would certainly be a better fit for Januzaj. Their attacking game style with plenty of short passes would clearly create the perfect scenario for the Kosovo-Albanian footballer, something that, when combined with Roberto Martinez's fantastic managerial skills, would definitely allow Januzaj to develop his skills even further.
Januzaj's talent is undeniable and as a result, it is fair to ask why there isn't any room for him at Louis Van Gaal's new Manchester United. The answer to such question seems to be quite simple.
Van Gaal implements a 3-5-2 system at United, where the wing backs assume both defending and attacking roles, eliminating wide midfielders from the team and, at the same time, concentrating the game at the middle of the pitch.
Januzaj definitely doesn't fit on the wing back role and there is also no room for him at the centre of the pitch, where Juan Mata, Wayne Rooney, Fellaini and even Di Maria have already conquered their space.
Although it might seem a mistake to let a young talented player such as Januzaj leave to another team under the current circumstances, it might be the right thing for him, since he might certainly enjoy from more first team football at his next team.
https://www.youtube.com/watch?v=VBq9PHIwq3I