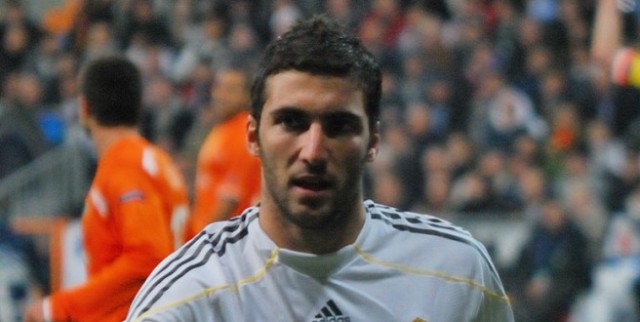 Even though it looks like Brendan Rodgers has been able to find the solution to the attacking issues that Liverpool had earlier in the season, he should still be looking for more depth with Mario Balotelli and Rickie Lambert failing to fit into the squad.
One player that would definitely help the Liverpool front line is Napoli striker Gonzalo Higuain. He may be available for the Merseyside club to purchase for around £30m ($45m), however, they would probably need to finance the move by selling Balotelli to whoever would be willing to take the talented but maligned striker.
The Argentinian forward is one of the most talented players in the world and he could be the player that could make Liverpool fans forget about Luis Suarez. At 6 feet, he is well built and should be able to keep up with the physicality of the Premier League right away. He is quick for someone his size and since he is only 27 years old, Liverpool would be getting him right in the middle of his prime.
He is a striker who is not only a predator in the box, he also excels in getting his goals from outside the penalty area. Another benefit to adding the Argentinian to the squad is that he is is no stranger to playing for a big-time team since he did play for one of the most scrutinized teams in the world during his 4 year stint at Real Madrid.
If there is one aspect of Higuain's game that may concern Rodgers, it may be how he will fit in the 5-2-3 formation that has recently become the formation of choice for the Liverpool manager. He struggles to get into games if he is not the focal point of the attack such as when he plays with Argentina where he usually plays on the wing in a 4-3-3 formation.
Liverpool plays a much tighter front line where the width comes from the wing backs and that should make it easier for Higuain to find space just outside the box, a favorite shooting spot for him.
Higuain is a terrific player who would definitely make Liverpool better, however, Rodgers would have to make sure that he would be able to integrate the big forward to the squad quickly.
https://www.youtube.com/watch?v=hFBOTjCOQDw