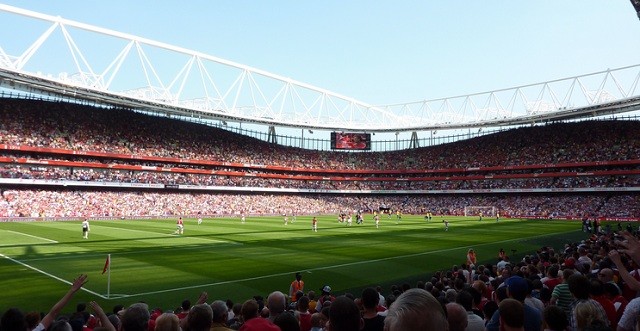 David Hytner from The Guardian is reporting that the transfer of Krystian Bielik to Arsenal from Legia Warsaw is imminent. Arsenal initially had a bid two bids reject, both bellow £2 million, but Arsenal came back with a revised bid of 2.4 million, including add-ons. Arsenal were able to fend off both Hamburg and Roma after sending a delegation to Warsaw to hash out the finer details.
Bielik came to London during the Christmas period to tour Arsenal's grounds and training facilities. It was reported yesterday that Bielik had visited Hamburg's training grounds this week, and that Hamburg were confident that they could seal the deal before Arsenal were able to come back with an improved offer.
FutnSoccer reported this deal last week where Bielik's possible contributions to Arsenal were documented.
Standing at 6 feet 2 inches, Bielik would certainly add height in midfield, and possibly center back where he can play as well. It remains to be seen where Bielik's long term positional future lays and it's unlikely we will find out soon. Beilik will most likely train with the first team but it seems unlikely he will make much of an impact this campaign. Look for him to make positive contributions during the summer's offseason and during the teams summer preseason tour, wherever that might be this summer.
This is still a coupe for Arsene Wenger, considering that Beilik certainly has a reputation and is held in high regard throughout Europe. Bielik has made 5 senior appearances in the Polish league, and 1 substitute appearance in the Europa League.
This transfer also provides depth in two positions, defensive mid and center back, where Arsenal are lacking in potential youth. As mentioned above, he won't make a contribution this season, however he is certainly one for the future and if he can make an impact in either position, it would do a world of good for the Gunners.
Other Transfer News
In other transfer news, Yaya Sanogo has successfully completed a loan to Crystal Palace where he will look to gain more first team experience in the Premier League. Injuries have hampered the young Frenchman's development throughout his career, so a string of starts in a top league will do him a world of wonders.
His potential is undeniable, he caused havoc in the FA Cup Final last year against Hull City, something that Tom Huddlestone recently admitted. He had also been trusted in a key games last year against Bayern Munich, Liverpool in the FA Cup, and Wigan in the FA Cup Semi-Final, over Olivier Giroud.
He performed well in all of those matches. Many will point to his lack of goals, but his one senior goal did come against Dortmund in the Champions League, not a mid-table team or league exactly.
No news yet on an incoming defender, although with the news that Mathieu Debuchy could be out for three months, if surgery is needed on his dislocated shoulder, you would expect Wenger to dip in the market.
*Gooners worldwide holding their breath.*