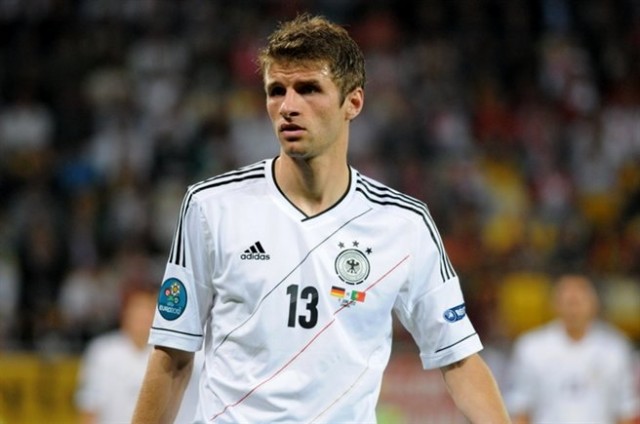 Manchester United are being linked with Thomas Muller after The Express reported that the player's agent has been in contact with Real Madrid regarding to a £45 million move away from Bayern Munich. United were heavily connected with Muller throughout the summer, but Muller remained at the Allianz Arena. Yet, it appears that the German attacker is now ready for a move away from Germany.
United manager, Louis van Gaal, has long been an admirer of Muller after working with him during his two years at the helm of Bayern. In fact, Muller, 19-years-old at the time was set for a loan move away from Bayern, when van Gaal was appointed manager and insisted the teenager remain in Bavaria. That fall, under the tutelage of van Gaal, Muller began making appearances with the first team and claimed a starting role within weeks.
Muller is coming off the back of his most productive season yet in which he scored 26 goals in just 51 appearances for Bayern Munich, leading his team to the German title. He then led Germany with 5 goals as they won the 2014 FIFA World Cup. The 25-year-old has started the new campaign in similar fashion, scoring 7 goals in 16 league appearances.
With it becoming more likely that Radamel Falcao is on his way out of Old Trafford, United are in need of another attacker capable of leading of the line. United have relied heavily upon Robin Van Persie up top, with youngster James Wilson coming off the bench in recent weeks. Wayne Rooney, their most prolific goal scorer, has looked at his best this season when playing as a midfielder.
Muller, who can play as a striker, winger or attack midfielder, would allow van Gaal to play Rooney in that deeper midfield role without losing potency in the attack. This would likely mean that Juan Mata is moved to the bench, though few would argue that as a bad thing. Muller is capable of the same passing ability Mata possesses, while also providing quick feet, aerial ability and the finishing touch that Mata lacks.
The efficiency and versatility of Muller is needed in a United side that contains many highly skilled, though arguably one-dimensional players. An extra attacker who understands the managers dynamic system could do wonders for Manchester United as they look to right the wrongs of the last 18 months.