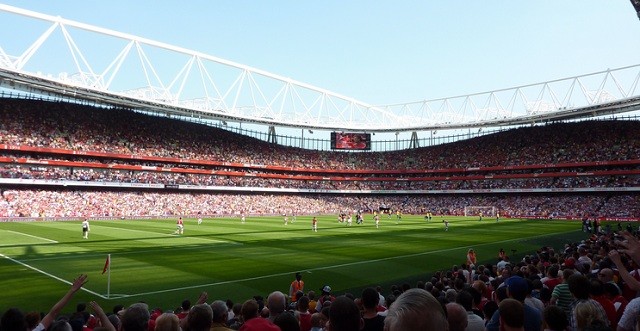 It seems that the week's rest Arsenal had since their last match against Hull City, has done them some good. During his pre-match conference, Arsene Wenger announced the return of Mesut Özil, out for 3 months, Aaron Ramsey, out for 1 month, and Mathieu Flamini, out for 2 weeks.
This news, coupled with the return of Olivier Giroud and Theo Walcott's continuing comeback, signals the start to the end of Arsenal's injury crisis. Now Arsenal wait for the return of Jack Wilshere, who is a couple months away from return, Mikel Arteta, could return in a couple weeks, and Danny Welbeck, who should return next week.
This is good news, especially considering that Arsenal face Stoke City, the team that brought Arsenal to their lowest point of the season only a month ago.
Wenger agreed that in the past Stoke have given Arsenal problems and that they are always a team that he is wary of, however, he beamed when saying that this was not the case when they played Stoke at the Emirates, as they will on Sunday. Stoke have traditionally been a difficult team to beat when Arsenal play them away, however, Wenger is right in saying that Stoke have struggled at the Emirates and Arsenal will surely try to exploit that.
Although Arsenal do seem to now have a wealth of midfield options again, it's unclear who will start considering many of the first choice players are not quite match fit yet.
Here is Arsenal's probable starting lineup:
Goalkeeper – Szczesny
This must have been a tough week for Wojciech Szczesny, after alledgedly being caught in the shower while smoking, and then having to hear his father go to the media making accusations about his teammates. But, Wenger was very tame in his criticism of Szczesny, and neither the player nor manager has addressed the incident publicly.
In fairness to the young goalkeeper, he had a fantastic game against West Ham the week prior, and although his form has not been like that of last year, the only glaring gaffe of his this season was his Southampton performance.
A lot of the criticism directed at him is unjust, and thoughtless. Szczesny is still a young player for goalkeepers, and he has been solid for Arsenal throughout his career.
He has played less games that other young goalkeepers such De Gea and Courtouis, who were allowed the chance to clean up their skills while playing at Atletico Madrid, under considerably less media scrutiny. Szczesny does not deserve this amount of criticism and he still will grow to be a top class goalie.
David Ospina has done nothing to show he deserves to take the number 1 spot. It would be unfair to Szczesny and detrimental to his growth if Ospina did take over from him. Szczesny starts.
Right Back – Debuchy
Having rested against Hull City, he should be fresh and ready to go.
Center Backs – Mertesacker & Koscielny
Like Mathieu Debuchy, both are rested and fresh. An improved performance by Per Mertesacker compared to his last outing against Stoke, is needed. Prove to Wojciech's dad that rhinoceroses can play center back!
Left Back – Gibbs
Nacho Monreal is deserving of the starting place, but Kieran Gibbs has done nothing to lose it. Gibbs' form as been consistent on both ends of the field and he has showed maturation. The depth of quality that Arsenal have at left back is a luxury that they haven't had for years now, and is the only position of depth for the back four.
Defensive Mid – Flamini
Mathieu Flamini returns from injury, and takes the place of Francis Coquelin, who impressed while deputizing for Flamini.
Some may argue that Coquelin deserves to keep his place, but if he had been sent off against Hull, he probably should have been twice, people may be saying the opposite of Coquelin.
Flamini provides experience and leadership in midfield.
Center Mid – Ramsey
Aaron Ramsey returns from injury and takes over central midfield from the impressive Tomas Rosicky.
Ramsey will look to pick up where he left off, after showing signs of the form he was in last year, prior to his injury in December.
Attacking Mid – Cazorla
Arsenal and the Premier Leagues' Player of the Month, Santi Cazorla is in phenomenal form and having had a weeks rest for the first time in a long time, this should continue.
Özil will have to fight for his favored number 10 spot with Cazorla, who is deserving of keeping it over the German.
It's likely we will see Özil on the left again at stages of this year, as frustrating and a waste of his talent as that is, but it's difficult to envision Cazorla losing his place in the short term.
Eventually its likely that Cazorla will move out left with Özil in the middle, but this would come at the expense of Walcott and Alex Oxlade-Chamberlain. If Wenger learned anything though, and it's unlikely he did, he will realize the need to rotate all of these players, so everyone will get their fair chance.
We will see Özil at some stage of the game. The question is, where?
Wide Right – Oxlade-Chamberlain
Walcott put in an impressive performance last weekend, but it's hard to see Oxlade-Chamberlain losing his place right now considering his phenomenal form. Walcott will feature at some stage of the game, especially if the Ox's on and off injured groin flairs up.
Wide Left – Alexis
Alexis Sanchez will benefit the most from the return of Özil, Ramsey, and Giroud, as it will alleviate some pressure off of him, and it will create more space and more chances for Alexis, as teams will have to focus on other players as well.
That isn't to say that teams only focus on Alexis, but Ramsey, Giroud and Özil all demand attention for various reasons. If the space doesn't open up for Alexis, it means the space will open up for those above mentioned players, who know how to use space to their advantage. We might finally see the Arsenal side that Wenger envisioned when he first purchased Alexis.
Striker – Giroud
Giroud returns from a three-match suspension after his moment of madness. Hopefully he has learned from the experience and we won't see that behavior from him again.
With Welbeck out injured and Yaya Sanogo out as well/about to leave on loan, Giroud is the only option, although he is not a bad option to have.
When Welbeck returns it will be interesting to see how Wenger decides to fit everyone in the first team, as this will be this first time that Welbeck and Giroud have been healthy with Özil and Walcott.
(4-5-1)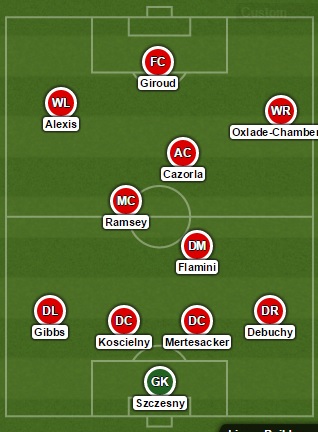 Via – Lineup Builder