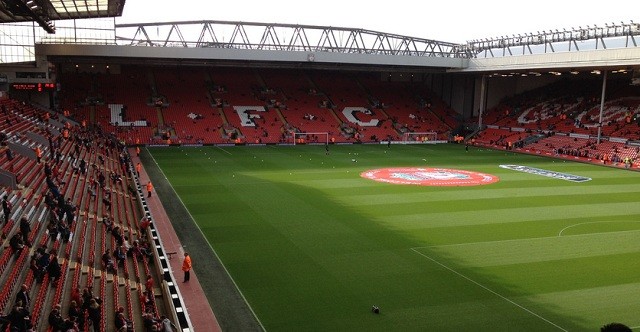 The past few weeks have been good for Brendan Rodgers and Liverpool. With four wins in the last six matches, the team has been playing well since the loss to Manchester United and with the imminent return of Daniel Sturridge to training, the squad will be back to full strength soon enough. After a 2-1 win against AFC Wimbledon in the FA Cup, they now face a struggling Sunderland squad.
With the injury to Adam Lallana, Rodgers opted to move Steven Gerrard to the front line against AFC Wimbledon and he produced a terrific display with two goals. 
Goalkeeper
Simon Mignolet has not been able to perform better during his return to the lineup after Brad Jones' injury.
It is only a matter of time before Rodgers brings in another player to provide competition for the Belgian. However, the team will need him to keep an eye out for both Steven Fletcher and Adam Johnson who are tied for the team lead with 4 goals a each.
Center Backs
The back line made of Emre Can, Martin Skrtel and Mamadou Sakho have been far from perfect but they are the best combination that Rodgers has put out. Even though Can was more of a midfielder when he arrived, he has been able to perform extremely well as a defender.
Both Skrtel and Sakho have also been playing well recently and they should be able to handle a Sunderland attack that has only scored 18 goals this season.
Right Wing Back
Lazar Markovic may make his return to the lineup with the shuffle in midfield. He played mostly on the left side of the midfield during his time at Merseyside, however he was originally a right winger during his time at Benfica.
Central Midfield
With Gerrard moving up to a more advanced role, Jordan Henderson and Lucas Leiva are likely to be the players that Rodgers chooses to be the foundation of the Liverpool attack.
Henderson's passing is almost as good as Gerrard's and he is able to use that more in a central role rather than out wide. Against Sunderland, Lucas will have to try and keep Sebastian Larsson under control in order to prevent him from creating opportunities for his teammates.
Left Wing Back
Alberto Moreno's speed is always an asset and he allows the Liverpool attack to stretch the opponent's defense. He puts good crosses into the box from the left wing which is usually missing when Markovic plays in the position.
Forwards
The attack made up of Gerrard, Raheem Sterling and Philippe Coutinho may miss some of Lallana's movement, but they are a lot more familiar with each other and that should lead to some great passing sequences.
Of course, Rodgers could play either Mario Balotelli or Rickie Lambert as a forward while moving Gerrard to midfield but this group of players seems like they have good chemistry.
(4-3-3)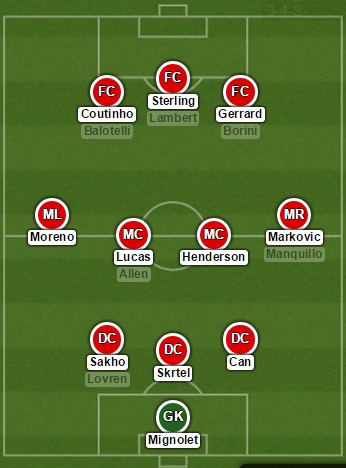 Via – Lineup Buider