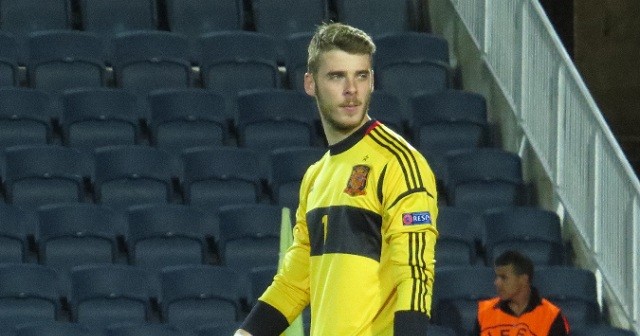 The January transfer window's frantic period is officially open and the speculation on the hypothetical departures from Manchester United is already making the headlines of several newspapers and football related websites across the World.
The recent arrival of former Barcelona's experienced goalkeeper Victor Valdés was United's first signing of the new transfer window, but his move to Old Trafford might indicate that one of the team's most influential players at the moment, David de Gea, is probably considering changing venues in the near future.
According to recent media reports from Spain, the Madrid-born goalie wants to return home and has alleged expressed his will to United's board recently. An hypothetical move to Real Madrid next summer could already be on the table, but everything will depend on what the future holds for Iker Casillas at the current European and World Champions and how United's recent signing, Victor Valdés, will adapt to his new reality at Manchester.
At the same time, an English newspaper claimed earlier today that David de Gea was on the verge of signing a new contract with the Red Devils, thus being transformed in the highest-paid goalkeeper at the history of football.
These contradictory news are probably starting to throw off the Red Devils' supporters who surely don't want to see United's most important asset so far this season leave to their international rivals of Real Madrid, like Cristiano Ronaldo did a few years ago.
Given the possibility of David de Gea leaving Old Trafford in the near future, it is probably a good time to analyse whether or not Victor Valdés will become a proper replacement for the young and talented Spanish goalie. The former Barça netminder has only recently recovered from his severe knee injury and it is fair to wonder if such injury has somewhat jeopardized his goalkeeping skills.
Valdés had a fantastic and long career at the Catalan team but his 12 year stint at Barça's first team was also marked by several periods of blatant inconsistency that, together with some major howlers here and there, cost Barcelona several points on different competitions.
The way I see things, despite his young age, David de Gea is already a far more complete goalkeeper than Victor Valdés has ever been and Manchester United would definitely not benefit, at least on what concerns the game itself, in selling him to Real Madrid.
In just four seasons, David de Gea has transformed himself into a key element on a team that keeps struggling to find some peace of mind after what happened in the last campaign and early this season and he might easily surpass Peter Schmeichel's and Edwin Van der Sar's impressive stints if he continues to develop at such a quick rate.
The man that walks where the grass never grows, as Eduardo Galeano put it in Soccer in Sun Shadow, is of paramount importance of any modern football team and Manchester United is not an exception. Having a 24-year old goalkeeper with de Gea's quality standards and with such commitment to the team is more than a good enough reason for United to do everything within their reach to secure him at Old Trafford for a long time.
https://www.youtube.com/watch?v=2Vzvj8T4l7U