The Rigorous holiday fixture list proved tumultuous for Chelsea, ending in their worst performance of the season, a 5-3 defeat at the hands of London rivals Tottenham. The Blues will get a chance to right the ship when they welcome Championship side, Watford, to Stamford Bridge on Sunday (11 AM EST) in an FA Cup tie.
Blues manager Jose Mourinho has shown great respect for the historic competition, while still using the cup games to give young players experience with the first time. Rest is needed for many of the first team players that have been apart of 9 games in less than 30 days and Mourinho has stated that he will "give a chance to other people to see what they can do."
The Chelsea manager also believes his teams experience playing against Championship sides, Bolton and Derby, will provide useful against Watford.
"It's a difficult game," Mourinho stated. "It's a good team, one of the best teams in the Championship. We have the experience of the difficulties against teams like Bolton, Derby, teams that we played already this season."
Despite a few poor results recently, Chelsea still carry an unblemished home record. In nine Premier League home games, The Blues have scored 23 and conceded just 3. In fact, the only points surrendered at Stamford Bridge were after a 1-1 draw with Schalke in the Champions League.
It is fair to expect a handful of changes in this week's side as Mourinho looks to rest his star players as they look to keep pace with Manchester City in the Premier League.
Goalkeeper
Thibault Courtois injured a finger against Tottenham and though it is not believed to be serious, Petr Cech will come in to face Watford. The long-time Chelsea starter has been relegated to the bench this season, but remained a loyal servant to the club he joined ten years ago.
Still a top keeper, there will be much speculation about transfers in the coming months. However, with third string keeper Mark Schwarzer having just left, it is believed Cech will remain with Chelsea until the end of the season.
Defense
Tottenham terrorized Chelsea's defense on New Year's Day, fueling speculation that there will be wholesale changes to the back four. Gary Cahill was particularly poor, allowing Harry Kane to constantly run in behind.
Cahill was two steps slow throughout the game and also surrendered a penalty against Spurs. Kurt Zouma suffered what looked a gruesome head injury a few weeks back, but could return to replace Cahill.
John Terry has played every minute of the Premier League season and is certainly deserving of a rest. However, the captain is not one to sit out in the FA Cup and will likely captain his side on Sunday.
Branislav Ivanovic is perhaps the most overrated player in the Chelsea squad. A center back by trade, Ivanovic has played right back the last two seasons and while many claim he has adjusted well, there are still many holes in his game. He is often caught out of position after making runs forward, and offers far less in attack than he is given credit for.
It is likely that Cesar Azpilicueta will move from left to right back to replace Ivanovic, with Filipe Luis coming in at left back. Luis is the most attack minded of all the Chelsea defenders and has played well when called upon this season. With Chelsea's poor defensive performances in recent weeks Luis could be given a stretch of games to prove his worth.
Youngster Andreas Christensen, who has his debut earlier this season in the Capital One Cup is also an option to replace Ivanovic.
Midfield
Chelsea's midfield is incredibly deep. However, fringe players like Muhamad Salah and Andre Schurrle have failed to impress when given the chance. Even Willian, who regularly starts for Chelsea has been underwhelming.
Nemanja Matic, Cesc Fabregas and Eden Hazard have been immense throughout the season but could use some rest before the crucial fixtures in the second half of the season. Hazard especially has been on the end of a handful of crushing tackles in recent games, resulting in a Mourinho rant in which he called out officials for not protecting the star player.
John Obi Mikel is a likely replacement for either Fabregas or Matic, while Schurrle could start in place of Hazard. Ramires is another player who has seen little playing this campaign, due mostly to injury. The match against Watford provides an opportunity for the Brazilian to improve his fitness.
Striker
Didier Drogba has been prolific throughout his career, and the FA Cup has been no different. In four finals appearances (2007, 2009, 2010, and 2012) he has four goals and four winners medals. The Ivorian will be keen to get the start, giving Diego Costa the day off.
(4-5-1)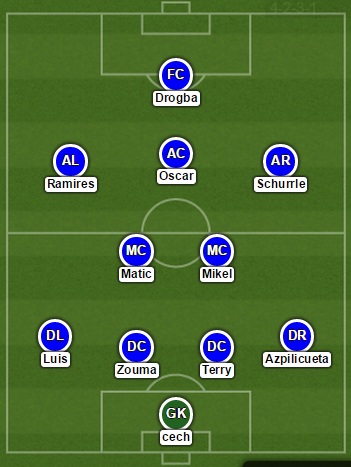 Via – Lineup Builder