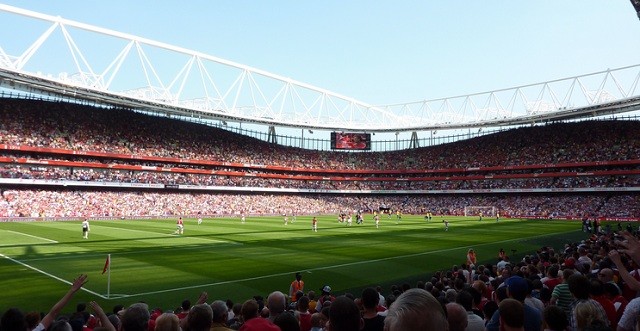 Arsenal face Hull City in the third round of the FA Cup, in a rematch of last years final. Hull City will be looking for revenge after going up 2-0 last May, only to lose in overtime, 3-2.
For Arsenal this match will bring back fond memories, however their main focus will be on assembling a healthy first eleven that will be able to compete.
Arsene Wenger said that he would rotate the squad as much as he could, although their will be limitations due to injuries.
There is some good news for Arsenal as Mesut Özil is back in training and could be available off the bench next weekend.
Theo Walcott will make his first start of the season, although its not clear if he will feature through the middle or on the wing, depending on Danny Welbeck's health.
Joel Campbell, David Ospina, and Francis Coquelin will start as well, meaning Arsenal will have some inexperience and players who haven't featured much this season, play an important role in tomorrow's match.
The main area of concern is Arsenal's back four; it's anyone's guess who will start. Laurent Koscielny will definitely not start though due to his recurring Achilles injury.
Here is Arsenal probable starting eleven:
Goalkeeper – Ospina
Wojciech Szczesny had a miserable day on Thursday, but his performance has nothing to do with him not start on Sunday. Ospina is Arsenal's "Cup Goalie" and would have started this match regardless.
Right Back – Debuchy
Really this entire back four is just a complete guess, as everyone has played a lot of matches and everyone could use a rest.
Seeing as Arsenal will feature some inexperienced players, an experienced back four seems most likely, therefore the most experienced right back will start.
Center Backs – Mertesacker & Monreal
Per Mertesacker and Nacho Monreal are the most experienced center backs available for this match, which is ridiculous because Monreal is a left back.
Mertesacker's form has been up and down all season; hopefully we see an up performance from him.
Left Back – Gibbs
If Arsenal had another center back available, Monreal would start here instead of Kieran Gibbs. Wenger likes to rotate his fullbacks during cup runs, and sometimes dubs Monreal as the cup left back.
Defensive Mid – Coquelin
He has played well the past couple games he has started, showing his tenacity and aggression in midfield. Unfortunately for him, his technique isn't quite up to par, but he should be applauded for his tremendous efforts for a club that seemed to have cast him aside only a month ago.
Central Midfield – Rosicky
Mathieu Flamini is out injured and Alex Oxlade-Chamberlain has been injured and seemed to pull up with an injury against Southampton on Thursday. The Ox will be rested, and even though Tomas Rosicky played the full match on Thursday, he has featured sparsely so he should be ok to go Sunday.
It would be surprising to see him go the full game and its possible youngster Gedion Zelalem makes an appearance in place of Rosicky, later on in the match.
Attacking Mid – Cazorla
Santi Cazorla is showing signs of jadedness after playing the full festive schedule. The problem is there is little option other than to play the Spaniard, as he is the healthiest option available.
We could see Calum Chambers come in to midfield next to Coquelin, like we saw against Southampton. This would push Rosicky up to Cazorla's position. This will only be done in case of an emergency.
Wide Right – Walcott
Walcott will make his first start of the season and will look to impress. Arsenal need him fully healthy and ready to go in every match, as this would alleviate pressure in central midfield, allowing Oxlade-Chamberlain to rotate between center mid and wide right.
Wide Left – Campbell
With Lukas Podolski on his way out on loan to Inter Milan, Campbell will come into the side.
This is an important match for Campbell as he has failed to really impress. With Podolski gone, Campbell moves one peg up the pecking order; he needs to show that he belongs there.
Striker – Sanogo
Rumors are swirling that Yaya Sanogo is about to be sent out on loan, although nothing truly concrete has come up. He had been struggling with a small hamstring problem during the week and its unclear if he is fit. The same goes for Welbeck though who has a slight thigh strain.
Alexis Sanchez will not play as he has looked exhausted out there, and he truly needs a rest. Pushing Alexis too much could cause a serious injury that Arsenal would struggle to recover from.
It's 50/50 who starts here.
Luckily for Arsenal they will have a week's long break, allowing them to get somewhat healthy and rested.
(4-5-1)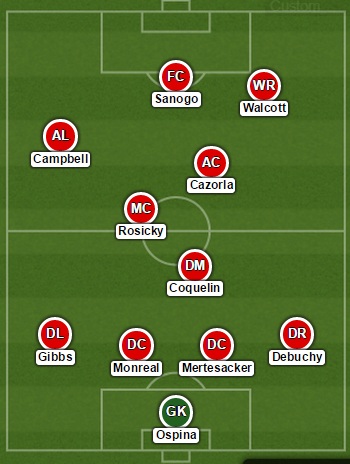 Via – Lineup Builder