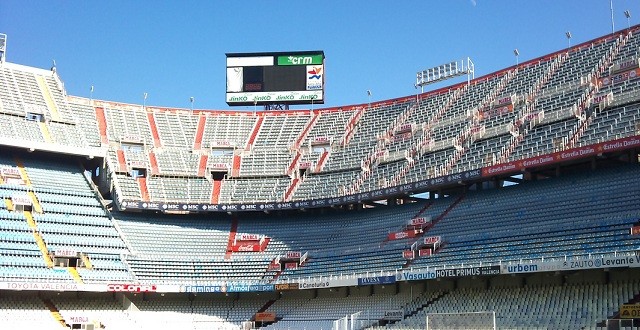 In the first game of 2015, Real Madrid face one of their toughest rivals with the idea of keeping the 1st place in La Liga. Following a bitter loss against AC Milan, Los Blancos can still continue their pursuit of the world record for consecutive wins. Valencia won't make it easy, as their stadium usually is a nightmare for Real. Last season, a late Jesé goal gave them the three points, yet they suffered throughout the game.
Preferred Formation: 4-3-3
No surprise here, as this system was the foundation for the club's amazing 2014 calendar year. Luka Modrić should be back very soon, still Carlo Ancelotti will use his usual Isco-James-Kroos trio.
These three men have made the BBC shine even more, as well as help out defenders with box-to-box tactical movements. Once again, the full backs will be essential in pressuring the rival and supporting attackers.
GK: Iker Casillas
Having left behind the bitter period with Mourinho, the captain is important and delivering matches reminiscent of his best years. He will return to Mestalla in La Liga after his absence last time.
RB: Dani Carvajal
With this being a decisive game, it makes more sense for Ancelotti to put out his attacking full backs. His forward runs and aggressive tackles can give support to Gareth Bale and keep that wing well covered.
CB: Pepe
His contract renewal is up in the air. His great form is causing the club a headache, since he will be 32 when the season ends. Because you never know in football, he'll continue to perform as if it were his last game.
CB: Raphaël Varane
Ramos didn't train with his teammates today, making his presence unlikely. This will be another great shot for the young Frenchman. If Pepe ends up leaving Real, Varane can finally become a regular.
LB: Marcelo
If Carvajal is playing, so will Marcelo. The Brazilian is going through a good moment, not only in attack, but in defense as well. His understanding with Isco and Ronaldo make this a powerful wing.
RCM: James Rodríguez
First time visiting Mestalla as a Madridista. Fully recovered from his injury, he'll work to go back to the great form from previous months. He must prepare himself for the heavy accumulation of demanding games this month.
CM: Toni Kroos
Another one making his debut on one of Spain's toughest fields, he can be the anchor once again. With Illarramendi, we saw him lose relevance in matches. Now with his usual partners, he can control the game as he pleases.
LCM: Isco
Much like Di María in the past, he has become an integral part in the midfield. His connection with Marcelo, his defensive sacrifice and his dribbling technique give the squad a boost. He will return to his former home.
RW: Gareth Bale
The second half of 2014 wasn't his best. Hopefully his mind is prepared to give it all in this crucial and complicated period of the season. He couldn't play the last time at Mestalla, so it will be a special moment.
ST: Karim Benzema
Key throughout this first half of the season, he has become the absolute owner of this position. Consequently, Chicharito has been relegated to a very minor role. The Frenchman will look to increase his goal stats.
LW: Cristiano Ronaldo
2014 was his best year yet, so it's only natural he will start 2015 with a winning mentality. He scored last year at this stadium, but he won't have an easy night, as Valencia are a stronger team now.
(4-3-3)