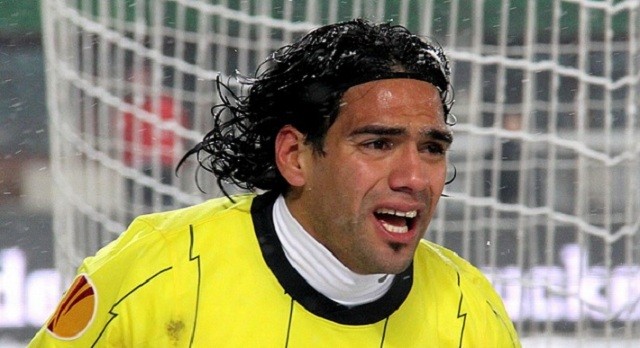 In a bid to revive their fortunes following a torrid season last year, Manchester United adopted a 'Galatico' approach and spent astronomical amounts to secure the services of a host of superstars over the summer.
United spent a total of £150milllion to strengthen their side and the Red Devils are intent on splashing even more money during the upcoming transfer windows.
Among the many superstars who arrived through the door at Manchester United, the deadline day signing of Colombian sensation Radamel Falcao was greeted with a lot of fanfare.
Falcao's arrival had been greeted with a lot of fanfare
After all, Falcao had been arguably the best striker in the world over the last few years and for Manchester United to have lured him to the club despite the absence of Champions League football, was seen as a major coup for the Red Devils.
To make the deal even better, Falcao was purchased on a yearlong loan deal with an option to purchase at the end of the season and given his recent injury problems – the nature of the deal was hailed as a very wise move by van Gaal.
However, injuries and inconsistency has meant that Falcao has not been able to replicate his top form for United this season and it has been claimed over the last few months that United are having doubts about exercising their clause to take the striker on board permanently for a reported fee of around £44million.
United have decided to make Falcao's deal permanent
In a further twist to the story though, it has now been claimed that United are indeed intent on making the deal for Falcao permanent and will have no hesitation in splashing out the whopping price tag in question.
According to Spanish newspaper Marca, Manchester United have been encouraged by the signs Falcao has been showing in recent times and with van Gaal giving the move his seal of approval, United will be looking to wrap up the deal in January.