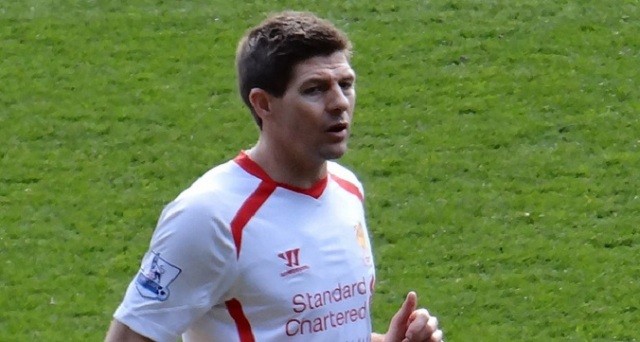 With a tremendous 4-1 victory over Swansea, Brendan Rodgers and Liverpool finally gave their fans the gift they have all been waiting for.
It was a performance that brought back memories of last season and hopefully this will give the players the confidence they need to start the New Year in fine form. They should be able to do this with a match against the Premier League's bottom team in Leicester City.
Goalkeeper
Simon Mignolet could not have really done anything with the lone Swansea goal and was able to relax as his teammates scored over and over again.
He should have another relatively easy game against Leicester since their only threat is Leonardo Ulloa but of course he will still have to put in a good performance to discourage Rodgers from bringing in another goalkeeper during the winter transfer window.
Center Backs
With Martin Skrtel suspended and Dejan Lovren sidelined by an injury, it looks like Emre Can will continue to hold down his starting spot beside Kolo Toure and Mamadou Sakho.
The back line as a whole did not have too much to do against Swansea since the team controlled possession, but they could have done a better job defending the Gylfi Sigurdsson goal and the events that led up to it. Against Leicester, if they contain Ulloa, they should be able to keep the opponents from taking shots at the Liverpool goal.
Right Wing Back
Jordan Henderson was all over the field against Swansea, he drifted out wide despite starting in central midfield and provided both the assist for Alberto Moreno's goal as well as the corner that led to the own goal by Jonjo Shelvey.
The vice captain should be able to once again wreck havoc against Leicester since the left side of their midfield is quite weak.
Center Midfield
Steven Gerrard was rested by Rodgers against Swansea but will likely return to the lineup in the upcoming match. After missing out on all the fun of the 4-1 beat down, the captain will be looking to play well against the bottom team.
Lucas Leiva did his usual job of disrupting the opponent's passing and providing the physical play that many of his more creative teammates do not enjoy doing. In the next match, he will have to do his best to contain the veteran, Esteban Cambiasso. If Rodgers wants to rest Lucas, he could play Joe Allen instead.
Left Wing Back
Alberto Moreno made a strong case for him starting ahead of Lazar Markovic with his second goal of the season. His speed will always be an asset that makes him difficult for opposing players to deal with and he should be able to use that well against Leicester.
Forwards
It looks like the Swansea match was the one where it all came together for the trio of Adam Lallana, Raheem Sterling and Philippe Coutinho. All three looked extremely comfortable with each other and that should lead to a similar performance against the weak defense of Leicester.
Lallana had his true break out game with two goals, although one was largely the result of both luck and incompetent goalkeeping. Both Sterling and Coutinho look more confident and rejuvenated than they did earlier in the season and they will be even more encouraged by the fact that Daniel Sturridge should return sometime soon.
(3-4-3)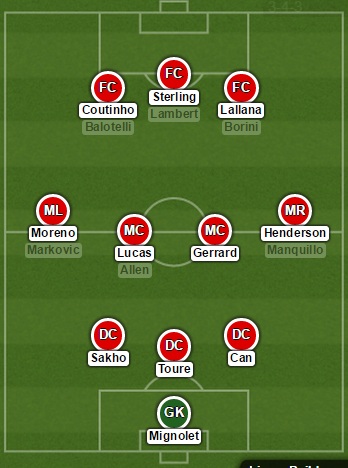 Via – Lineup Builder