Chelsea left Southampton with just one point last weekend, after failing to score the decisive second goal despite dominating play for a majority of the match. It was only the fourth time in nineteen Premier League matches that The Blues failed to win. They will be looking to put the poor result behind them when they face London rivals, Tottenham Hotspur on New Year's Day (12:30 PM EST).
Chelsea manager, Jose Mourinho, cloaked his team's impotency against the Saints with suggestions that there is a clear campaign against Chelsea. Rather than citing a number of missed opportunities and poor crosses, Mourinho turned his attention to one bad decision from the referee. Cesc Fabregas was alleged to be fouled in the box, however, Anthony Taylor instead booked Fabregas for diving, a call that had Mourinho fuming post match.
Post match Mourinho stated that, "The media, commentators, other managers are all doing it [putting pressure on referees]." He later added, "There is a campaign against Chelsea. I don't know why there is this campaign and I do not care."
Though not atypical of Mourinho to complain, his words will do nothing to overturn an unfortunate result for his side.
What could instead turn his team's fortune is a visit to play Tottenham, a team Chelsea have dominated for the last quarter of a century. Less than a month ago Chelsea rolled past Spurs with a 3-0 victory, keeping Tottenham winless at Stamford Bridge for the last 24 years. At home against their London adversaries, Tottenham have not been much better. In 22 matches at White Hart Lane over the last 23 years, Chelsea have lost just three times.
Tottenham currently sit in 7th place, 15 points behind league leaders Chelsea. Since the first meeting, Chelsea have picked up 10 points, one less than Spurs. However, Chelsea have won all of their previous matches when following a draw or a loss.
Mourinho has employed small-scale changes in his squad over the last few weeks in order to rest certain players over the busy December Schedule. Midfielder, Oscar, missed Sunday's game with an illness, but should return against Spurs. There are no other absences plaguing Chelsea as they look to start the New Year with a victory.
One thing to note is that on the three previous occasions when Chelsea have led the Premier League on January 1st, they have gone on to win the title.
Goalkeeper
Thibault Courtois has been beaten just once in his last four matches and recorded two saves in his clean sheet against Spurs on December 3rd.
Defense
Filipe Luis got the nod ahead of Cesar Azpilicueta at right back against Southampton. It was just the fourth start of the campaign for the summer signing from Atletico Madrid. Luis is a better attacker than Azpilicueta, but failed on a number of occasions against The Saints to make his presence known on the wing. With the attacking threat that Tottenham possess, it is likely that Azpilicueta will get the start.
Centerback, John Terry, was at fault for Southampton's goal as he stepped up far too late, leaving Sadio Mane onside and clear in on goal. Though his form this season has been far too impressive to think the Chelsea captain would be dropped after one mistake. Look for him to lineup alongside Gary Cahill in the center of Chelsea's defense.
Like Terry and Cahill, Branislav Ivanovic has started all 19 of Chelsea's league games. That should not change on New Year's Day.
Midfield
There is hardly a weakness in Chelsea's midfield. Nemanja Matic is the defensive stalwart in the middle of the pitch, connecting the backline with Chelsea plethora of attacking players. Matic replaced John Obi Mikel immediately after signing with the club last January and his play has been far superior to that of the Nigerian. Though defensively, the two are similar, Matic offers much more with his passing and aerial presence in the final third.
Another recent signing, Cesc Fabregas, is the fulcrum in Chelsea's attack. Halfway through the season, Fabregas sits just seven assists shy of the league record after he recorded his league leading thirteenth assist against Southampton.
The acquisition of Fabregas has been one of Mourinho's best. The decision to play the Spaniard in a deep lying role has allowed him to illustrate all of the qualities that Fabregas first displayed as a teenager at Arsenal. His passing is top drawer (league leader in key passes and second in total passes), he has been key on set pieces, and his runs in and around the box open up space for other attacking players.
Eden Hazard has been one of those players to enjoy the space created. He is second amongst midfielders with seven goals this season. Furthermore, after some criticism from Mourinho earlier in the season, Hazard has taken it upon himself to be more decisive and run at players in the final third. Time and time again Hazard is the player who looks most dangerous for Chelsea.
Andre Schurrle was substituted at half time against Southampton and replaced by Willian. Despite good performances in cup matches, Schurrle has failed to impress in the league this season and will likely be relegated to the bench on Thursday. Willian and his compatriot Oscar should round out the midfield.
Striker
Diego Costa is efficient to say the least. He has scored 13 goals on 26 shots on target in 16 matches. Look for him to lead the line on New Year's Day.
(4-5-1)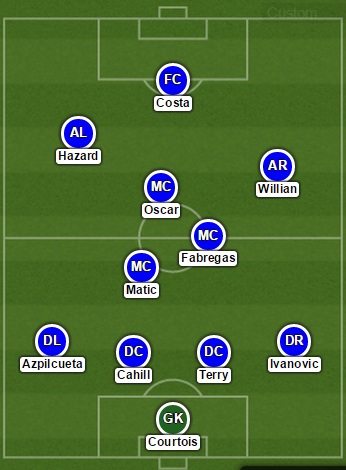 Via – Lineup Builder